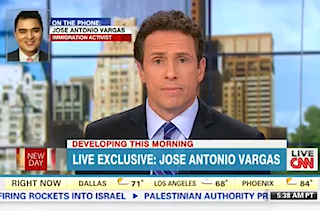 When reporter Jose Antonio Vargas announced on Twitter Tuesday that he would be attempting to go through security at McAllen Airport with only his Philippine passport and was subsequently detained by authorities there, many assumed that he was engaging in some sort of political "stunt" or at least trying to make a point about life as an undocumented immigrant in the United States.
But this morning on CNN's New Day, Vargas told Chris Cuomo that he did not anticipate his detention and denied that he was pulling a "stunt."
Vargas, who was released late in the day yesterday, spoke to Cuomo by phone, describing the ordeal of getting handcuffed by border control as he was trying to fly to Los Angeles after visiting one of the detention centers in Texas where immigrant children are being held.
"I really wanted to chronicle what's happening with the humanitarian crisis, particularly with the kids, and ended up being at the border patrol station where many of these unaccompanied Central America minors were actually also being detained," he said. "So that was really surreal and kind of ironic."
RELATED: CNN Hosts Poll on Whether to Deport Journalist Jose Antonio Vargas
"You of all people, how were you not aware that going to this part of Texas would avail you of this type of scrutiny, because you know this is what they do there?" Cuomo asked Vargas, who has publicized his own undocumented status. "And did you anticipate that this was going to happen?"
Vargas insisted that he did not know he would be detained, especially because he's traveled around the country including the California border without have these issues. "I didn't know that Texas, you know, that border, basically was within the 45 mile radius of that area is a militarized zone," he said.
"People have been asking me if this was some sort of a stunt," Vargas said. "Is it a stunt to get on a plane to leave, to try to get out of South Texas?" He added, "That's the risk I had to take. But again, that's the risk undocumented people take every day."
Watch the full interview below, via CNN:
[Photo via screengrab]
— —
>> Follow Matt Wilstein (@TheMattWilstein) on Twitter
Have a tip we should know? [email protected]