Jose Baez On Casey Anthony's 'Fantasy World:' 'What Are You Going To Do? Waterboard Her?'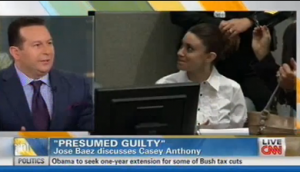 Former Casey Anthony defense attorney Jose Baez stopped by CNN's Starting Point Monday morning to discuss his new book, Presumed Guilty – Casey Anthony: The Inside Story. Baez referred to his notorious client as "somewhat special" to hm given that he represented her for such a long period of time.
RELATED: Defense Attorney Proclaims Casey Anthony's Innocence In New Book
"Let's get it all out there," said fill-in host Christine Romans."This is what you write… You say they should have stopped and realized, wait a minute, we're not here dealing with someone who's playing with a full deck here. Rather than thinking this is a guilty person, why wouldn't they consider this is a person who has built some kind of fantasy world, someone who lives within mythical reality?"
"Does she need mental — is this a mental situation do you think?" Romans asked.
"I think that there's a lot there," he said, adding that "the red flags were everywhere" from early on in the investigation. He recounted how Anthony had walked investigators through Universal Studios, pointing out a fictitious office. Police, he believes, should have "taken a step back" at this point instead of moving to arrest Anthony.
"You have a missing baby and a woman lying, lying," Romans pointed out.
"What are you going to do?" Baez asked. "Waterboard her? No, I think the right thing to do at that point is take a step back and say, okay, let's see if we can get somebody in here to talk to her. There might be mental health issues. The police know that a majority of the people who commit crimes do it because they either have a drug problem or mental health issues."
Romans then asked whether Anthony — long the "most hated woman in America" — is still living in a fantasy world.
"I haven't spoken to her about children and things like that," Baez replied. "We usually spoke about her case. And in investigating her case, the fact she had so many imagery friends, I put up a big board in closing arguments with every single person. There was once where her and her mother waited in a parking lot for a person who didn't exist, waited an hour and a half. She didn't exist."
The whole thing, he concluded, was simply something that had "spiraled" out of control.
Have a look, via CNN:
Have a tip we should know? tips@mediaite.com