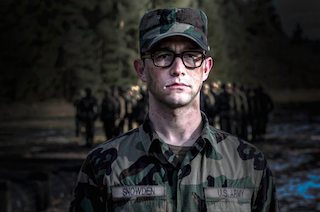 The Oliver Stone-directed Snowden, starring Joseph Gordon-Levitt as NSA whistleblower Edward Snowden, isn't set to premiere until Christmas Day. But given all of the debate this week over the possible expiration of the Patriot Act, the actor is speaking out about what he hopes the film will achieve.
"I think it's really important for us to all talk about it and to talk about different sides," Gordon-Levitt said in an interview with the Associated Press. "You don't really get much in the American media that explores why he did what he did, why the government could potentially be doing something wrong." Meanwhile, he added, in the rest of the world Snowden is mostly "lauded."
Gordon-Levitt also said that while some NSA critics are framing the USA Freedom Act, which has now failed twice in the Senate after passing in the House, as surveillance reform, he sees it as more of "lip service to reform" that "doesn't really change anything."
"I love the idea that we made the movie when we did such that it can participate in that conversation," Gordon-Levitt added of the ongoing legal and ethical debate. "Eventually, hopefully, there will probably be a Supreme Court case about it at some point soon. And while the Supreme Court judges aren't supposed to really listen to popular opinion, they do."
Currently, the Patriot Act provisions regarding meta-data collection are scheduled to expire on June 1 unless Congress manages to approve some compromise. In a public appearance Friday afternoon, President Barack Obama claimed that the surveillance tactics are "not controversial" and urged the "handful of senators" preventing action to accept the new bill.
Watch video below, via AP:
[Photo via screengrab]
— —
>> Follow Matt Wilstein (@TheMattWilstein) on Twitter
Have a tip we should know? tips@mediaite.com