Josh Earnest Offers Feeble Defense on Lack of Transparency at Obama Fundraisers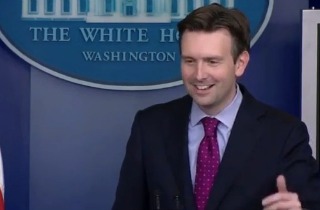 President Obama's chief spokesman Josh Earnest today defended White House policy that allows the president to speak privately with small groups of donors at Democratic fundraisers, despite tax dollars paying for undisclosed portions of those trips.
Whenever Obama travels for a fundraiser, reporters who accompany him are often allowed to cover his remarks at the event, but then are ushered away for the duration of the audience Q&A (usually the most colorful part of the event).
Though previous administrations have also followed this protocol, Earnest was pressed on why the White House deems it appropriate.
"The goal of those Q&A sessions is to foster a more candid and open dialogue where you have donors who are expressing their views and the nature of — in some ways we have, I think it's the Heightenberg [sic] principle?" Earnest said, actually meaning to refer to the Hawthorne effect, the phenomenon whereby people alter their behavior when they're aware they're being observed.
CBS Radio's Mark Knoller rightly noted that such an effect would be in play at any event the president attends, many of which are fully accessible to the press and not closed off for certain portions.
"It does which is why we try to balance them," Earnest said. "I think that if you're in a setting where the president is speaking––as he did in Maryland over the weekend to 8,000 people––it would be hard for me to make the case that letting 12 additional people observe that speech would necessarily change the interaction. But I think the dynamic is different when we're talking about a smaller group of individuals, a couple of dozen, that increasing the number of people who are participating in that session does necessarily change the interaction."
Watch via RealClearPolitics:
[Photo via screen grab]
— —
>> Follow Eddie Scarry (@eScarry) on Twitter
Have a tip we should know? tips@mediaite.com