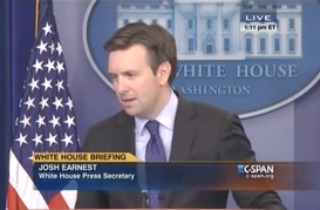 Josh Earnest's press conference today had a great deal of focus on the White House's announcement that the U.S. military will be sending special force troops to assist Syrian rebels fighting against ISIS.
During the press briefing, Kristen Welker grilled Earnest over whether President Barack Obama's decision means he is breaking his 2013 promise to not put boots on the ground in Syria.
"You've read one quote that, to be fair, is out of context," Earnest replied. "The situation that the president has described is a description of the kind of mission that our men and women will have in our counter-ISIL campaign."
When Welker pressed on with Obama's repeated promises over the years, Earnest responded that those comments were made in reference to whether a military strategy would be used in a regime change effort against Syrian President Bashar al-Assad. He continued to say that the new concern was in helping local forces prepare themselves, and that it was not yet part of a larger, long-term operation.
"Our strategy all along is focused on building the capacity of local forces to fight ISIL for themselves in their own country," Earnest said. "That element has yielded progress and the president wants to intensify that assistance that we are providing, and one way to intensify them is to pair them up with the smartest and bravest fighters in the United States Military."
Watch above, via C-SPAN.
[Image via screengrab]
— —
>> Follow Ken Meyer (@KenMeyer91) on Twitter
Have a tip we should know? tips@mediaite.com