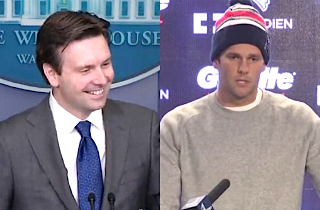 White House Press Secretary Josh Earnest just knew that someone would ask about the New England Patriots DeflateGate scandal at today's briefing and he had the perfect line ready to go when CNN's Jim Acosta obliged.
"Because it's been a big topic of conversation this week, what is the president's reaction to DeflateGate?" Acosta asked Earnest.
"I have not spoken to him about this particular issue," Earnest replied.
"The one thing I can you is that for years it has been clear that there is no risk that I would take Tom Brady's job as quarterback of the New England Patriots, but I can tell you that as of today it it is pretty clear that there is no risk of him taking my job, either," he added of Brady's performance in yesterday's widely-broadcast press conference.
"That was kind of fun, right?" Earnest said, milking the moment after the strong reaction from reporters in the room. "I came up with that on my own, thank you."
RELATED: Tom Brady: 'This Isn't ISIS, No One Is Dying'
"The thing that is clear about Mr. Brady's job is that it does cause him to make a snap decisions in very high pressure situations," Earnest continued, pressing his luck. "And he does it very well. He also is in a position where those decisions are regularly second-guessed, so I think certainly on that level he and I can relate to one another."
On a more serious note, he said the White House would staying out of the scandal, leaving it to the NFL to decide what, if any, punishment there should be for the Patriots' alleged wrongdoing.
Watch video below, via C-SPAN:
[Photo via screengrab]
— —
>> Follow Matt Wilstein (@TheMattWilstein) on Twitter
Have a tip we should know? tips@mediaite.com