Joy-Ann Reid Battles MSNBC Panel Over Her Insistence That IRS Did Not Target Conservatives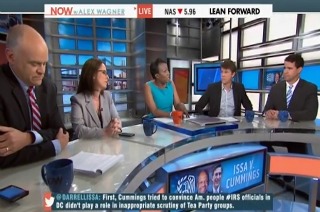 Filling in for Alex Wagner, The Grio editor Joy-Ann Reid engaged in a heated exchange with her panel guests on Wednesday after she insisted that the Internal Revenue Service as an institution should not be implicated in the scandal surrounding the targeting of conservatives. Her panel guests objected to that assertion and said that it was clear that some malfeasance had occurred. They added that, without a completed investigation, no group or person should be exonerated yet.

Reid attacked Rep. Darrell Issa (R-CA) for objecting to the release of the full transcript of an interview with an IRS official who testified that the targeting of conservative groups was not directed from the White House. Issa said that the transcripts provide other IRS officials with a "roadmap" to avoid answering tough question posed by members of Congress
POLITICO reporter Maggie Haberman conceded that the investigation into the IRS scandal was complicated and refused to declare one party or the other the more virtuous actor.
"But isn't he factually wrong?" Reid insisted. She noted that the transcripts released disprove the assertion that Washington directed the IRS targeting of conservative groups.
Haberman again refused to say whether Issa was being disingenuous in his objection to the release of those transcripts. "There was targeting," she continued. "We do know there was targeting."
"Isn't the IRS unit that looked at these groups, isn't it their job to asses whether these groups should get a tax exemption – which is a subsidy from the taxpayer," Reid interjected.
"I guess my question would be then why did the president dismiss the head of the IRS?" Haberman countered.
"Politics," Reid shot back. "Because of us. The media."
"No," asserted National Journal Editorial Director Ron Fournier. "He dismissed the head of the IRS because the IRS admitted what they did was wrong."
Crosstalk ensued as Reid and some in the panel objected to Fournier's statement. He added that "McCarthyite" Issa and the White House are both wrong in their assessments of who should be held accountable for the IRS scandal.
Reid asserted that low-level staffers were simply confused over how to navigate the new rules relating to tax-exempt groups. "We don't know," insisted Fournier who added that an investigation has not yet been completed.
"To me, the real scandal here is that we have groups seeking tax-exemption that were doing things like handing out Romney campaign literature," Reid concluded. She added that she should not be "subsidizing" those groups with her tax dollars.
Watch the clip below via MSNBC:
> >Follow Noah Rothman (@NoahCRothman) on Twitter
Have a tip we should know? tips@mediaite.com