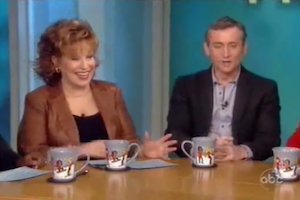 Mediaite founder Dan Abrams continued his welcome-wagon tour around the ABC family today and continued to win the favor of the female contingent by promoting his book, Man Down, on The View. The interview started off with a bang as Joy Behar asked the question everyone (excluding us*) has been thinking: Did he just write the book to get laid?
While ABC censors cut the audio during the offensive question, a "source" in attendance confirms to Mediaite that Behar indeed question Abram's intentions to "get laid." Abrams quickly responded that it was a book he wrote "as a lawyer," but the ladies kept needling him ("You're getting so red!") until he had to explain that he's currently dating someone who "appreciates the book."
With that out of the way, the hosts began questioning Abrams on the various claims in the book. Of particular interest was the section that claimed women were better broadcasters (a chapter that mentions Barbara Walters, incidentally) and the one that said they were better politicians. Abrams was asked why, if that were true, there weren't more opportunities for women in both fields. He responded that, sadly, a reoccurring theme in the book was that, while women better fit all the qualities that people want in a specific job, when asked, those same people would claim they'd prefer a man.
While there, Abrams also fulfilled his duties as ABC's legal analyst, answering questions on Charlie Sheen's child custody issues.
*We know that he actually wrote the book to fill it with subliminal messages commanding readers to buy ad space on Geekosystem.
Watch the segment from ABC below:
Have a tip we should know? tips@mediaite.com