Fran Drescher Chides Joy Behar For 'Contributing To The Problem' Over Hooters' Waitress Segment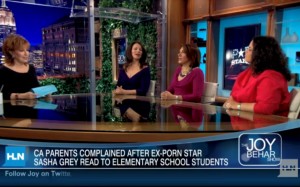 On Monday night, Joy Behar started a panel discussion on her show about a parent who complained when a Hooters waitress in Florida was invited to talk to a group of high school and middle school students for a career day. Behar erroneously told the panel that the waitress spoke at a special needs elementary school, then quickly brought up the earlier case of porn star Sasha Grey reading to schoolchildren last week.
Comedian Jessica Kirson began the discussion by doing a stale impression of an airheaded Hooters waitress, and Bonnie Fuller followed up by noting that it was surprising that this happened, as Florida is one of the most conservative states in the U.S. Behar again noted that this was an elementary school for special needs kids (but, in her defense, she defended the fact that this is still just a waitress, regardless of where she worked) before kicking the discussion over to Fran Drescher, who gave a brilliant moment of clarity to the program — and talk shows in general– as the segment wrapped:
"People don't have anything better to do," Drescher said, before realizing where she was. "Joy what are you doing? You're contributing to the problem!"
This is why Drescher has a point: a report on the incident from a local reporter, WTSP's Beau Zimmer, has an interview with the waitress, 23 year-old Brittany Morgan. She says she was dressed in a track suit and had more clothing on than some students in the school. She's also upset that someone complained about her having an actual job and judging what she does. "I don't see anything wrong with being a server," she told Zimmer. "Most of us are young women working our way through school and aspire to be other things in life." She added that she's planning on going back to college, and that even a server can teach students about the importance of professionalism in the workplace and self respect.
Not to dump on Behar, who actually defended Morgan's line of work, but Drescher's comment, especially in light of the misinformation put out by the show, might be one of the most intelligent things uttered on any cable news show Monday night.
Watch the panel discussion below, followed by the report from Zimmer, courtesy of HLN and and WTSP:
…and the local report:
Have a tip we should know? tips@mediaite.com