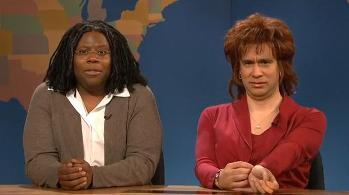 Joy Behar started her new cable news show on Tuesday, giving her two hours each day on the small screen. She's on The View every morning, and on HLN at 9pmET.
But yesterday Behar didn't stop there. She showed up at 11pmET on The Daily Show and "she" showed up on NBC at 8pmET as well.
"Is there a time of day now that Joy Behar is not on television?" asked Stewart. "I have more exposure than Obama at this point. I'm on constantly it's ridiculous," she said.
Behar has a unique way of paying a compliment as well. "You are the news. They go to you instead of, you know, Walter Cronkite," she said to Stewart at the end of the segment. "Well, he's dead."
But Behar also showed up on Weekend Update Thursday – as portrayed by Fred Armisen. The sketch was based around Whoopi Goldberg's comments earlier this week (she was there too, portrayed by Kenan Thompson) about "rape rape". Here's a sampling of the Behar wisdom: "I swear, up under my boobs it's like The Rainforest Cafe."
It's a good week for Behar's to get out as much as possible – as her show premiered to solid, but not spectacular, ratings. Still, with the run of controversial guests saying controversial things is sure to help get the word out as well.
Here's the Daily Show interview, where Behar explains how she and Ann Coulter are like the "lesbian version" of Mary Matalin and James Carville, and below, the SNL clip:
—–
» Follow Steve Krakauer on Twitter
Have a tip we should know? tips@mediaite.com