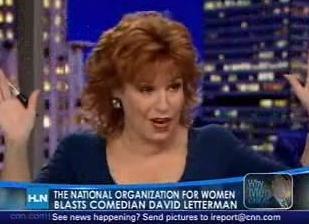 Joy Behar's new HLN show has had no shortage of high-profile and controversial guests since its premiere, and has made a big (and successful) PR push.
But after one week, have the ratings matched the buzz?
Behar replaced a repeat of Jane Velez-Mitchell's Issues at 9pmET, but her one-week average has not shown improvement on Velez-Mitchell's hour. Behar's A25-54 demographic average is 177,000, down 6% from the Issues average in September. In total viewers, the program is marginally up 1%.
Compared to the competition, Behar is trailing FNC's Hannity by 72%, CNN's Larry King Live by 34% and MSNBC's Rachel Maddow Show by 27% in the demo.
Still, it's important to note that no show at 9pmET has grown in either the demo or total viewers when comparing October averages to the September average. And HLN is down far less than FNC and MSNBC so far.
An HLN spokesperson tells Mediaite: "We are very pleased with the performance of the show – and with the incredible talent that Joy adds to our lineup."
Using just one week of data is not a great indicator of where the show will be after a month. In that respect, at the end of October we'll know more about what Behar adds to the HLN line-up. But at the same time, when new shows premiere, they usually see a big bump (see: Imus), and then level off. It's happened a bit with MSNBC at 9pmET, where Maddow premiered last year to huge ratings and has since declined a bit. Having the show premiere to ratings that are not an improvement on the previous month's repeat is not a good sign.
But we'll keep an eye on the ratings over the course of this first month and beyond. The smooth transition from 7pmET-8pmET (Velez-Mitchell to Nancy Grace) is not as clear going to Behar's show. But with an excellent lead-in, Behar's show has a great shot at succeeding, and growing, in the long run.
Here's a segment from last night's show, where Behar calls Mel Gibson an "f-ing anti-Semite":


—–
» Follow Steve Krakauer on Twitter
Have a tip we should know? tips@mediaite.com