Joy Reid's Guests Clash: Was Black SNL Cast Member's Slavery Joke in 'Poor Taste'?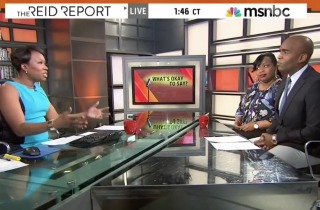 On this past weekend's Saturday Night Live, writer Leslie Jones sparked controversy when she launched into a routine satirizing African-American slavery. The comedic monologue resulted in an outcry on social media and prompted Jones to reprimand her critics for failing to understand the true target of her joke.
On MSNBC host Joy Reid's program on Monday, the host and her panel of guests debated whether the joke was in "poor taste" and, if it was, why it made viewers so uncomfortable.
Reid began by asserting that Jones, as well as two of her African-American colleagues, "were actually hired because SNL was criticized for not being diverse enough."
"I think what a lot of people are outraged about is it just wasn't smart," said The Grio entertainment editor Chris Witherspoon. "It wasn't smart humor. She just came on and started talking about slavery. Comparing Lupita Nyong'o, who's really having her Cinderella moment, to being at a slave auction or being on a plantation."
RELATED: SNL Writer Rebuts Critics over Slavery Sketch
He said that the routine was a "big mess," but he added the joke would have been a "hit" if she had worked in a reference to LA Clippers owner Donald Sterling or Nevada rancher Cliven Bundy. "SNL probably should have known better, but it's SNL," he concluded. "It's a comedy show."
Comedian Jackie Fabulous disagreed. "They've said way worse things on Weekend Update throughout the years," Fabulous said.
Watch the clip below via MSNBC:
[Image via screengrab]
— —
>> Follow Noah Rothman (@NoahCRothman) on Twitter
Have a tip we should know? tips@mediaite.com