Joy Reid Echoes GOP's Complaints About Obama in Rant About Chris Christie's Unearned Media Love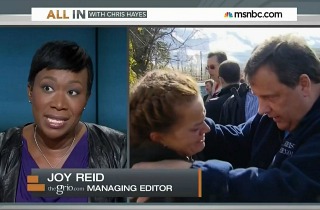 Conservatives, and even a few liberals who do not take themselves too seriously, will take particular delight in the lack of self-awareness reflected in the following comments by MSNBC contributor Joy-Ann Reid.
In an appearance on All In with Chris Hayes on Wednesday night, Reid took aim at what she believes is New Jersey Gov. Chris Christie's undeserved adoration from the press. Reid expressed her contempt for the political press appearing to fall under the spell of the Garden State's gruff chief executive's charms. Her criticisms of the press almost precisely mirrors those levied by Republicans at how the media treated President Barack Obama for the last half-decade.
"I was listening to Chris Christie's acceptance speech last night, you know, I was kind of fuming because he, Chris Christie, has perfected the performance of being this, sort of, great man of the people that entrances the reporters," Reid said with undisguised resentment. "It enraptures and almost hypnotizes reporters, because it's so gosh darn every man."
Reid expressed frustration at the fact that Christie has earned the respect of the press corps, the esteem of his fellow Republicans, and the adulation of his deeply Democratic state in spite of what she sees as a lack of accomplishments in office.
"What did he actually do to earn this rapturous response from the media?" Reid asked.
While Reid's criticism of Christie's accomplishments – none that she can point to, though his record is best summarized by the endorsement of his ideological adversaries on the Star-Ledger editorial board — is unfair. However, it is not hard to see the merits in her critique of the media's embrace of Christie's self-made image. But the sympathy ends there.
Her critique of the press is nearly indistinguishable from those Republicans have made of the media's uncritical elevation of Barack Obama in spite of his lack of achievements in office.
Reid is, however, unlikely to identify the irony in her comments. She concluded by conceding that the only thing Christie deserves unqualified praise for is his ability – unique among Republicans, in her estimation – "for not hating Barack Obama."
Watch the clip below via MSNBC:
h/t MRC
[Photo via screen grab ]
— —
> >Follow Noah Rothman (@NoahCRothman) on Twitter
Have a tip we should know? tips@mediaite.com