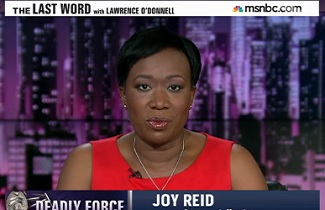 On the heels of Martin Bashir's ouster from MSNBC, speculation as to who should take over Bashir's 4 pm time slot immediately sprang up online, and if a pair of online polls are any indication, the clear answer is MSNBC contributor and managing editor of TheGrio.com Joy-Ann Reid. In a Mediaite online poll, Reid currently leads runner-up Ronan Farrow by almost ten points, while a TVNewser poll has Reid in a much tighter race against former RNC chair Michael Steele, with Farrow in a distant fifth place.
MSNBC and network President Phil Griffin now face a potentially disastrous backlash due to the transparently forced ouster of Martin Bashir over his provocative commentary about former Alaska Governor Sarah Palin, for a variety of reasons. The first is that the network appears to have succumbed to pressure from a chorus of people who already didn't like Bashir, including MSNBC host Joe Scarborough and a Sarah Palin political action committee, rather than anyone who is actually a part of the network's core audience. On social media, there have been widespread calls from actual MSNBC viewers to boycott the network until they rehire Martin, and it has not escaped their notice that Bashir is a person of color who was run out of his job by an angry white mob.
It's not likely that MSNBC will hire Bashir back, but given that context, selecting a replacement is an opportunity for Phil Griffin to possibly stem that tide, or make it a whole lot worse. Given the optics here, and the way his last new hire worked out, there would need to be a pretty high bar, qualification-wise, for Griffin to hire another white male to fill this slot. With all due respect, Ronan Farrow doesn't meet that bar, and his hiring would send the wrong message to MSNBC's core audience, which prizes diversity. It would be especially disastrous, though, for Griffin to pass over Joy Reid, whose news chops dwarf Farrow's, in the process.
There has been buzz building for a Joy Reid show (which should be called Reid: All About It™) for some time, including encouraging signs from the network, and it's not hard to see why. Her roots in both traditional and new media go back a long way. She's worked in television and radio news for fifteen years, and has written The Reid Report political blog for almost nine years. That combination of reporting experience and internet-savvy commentary give Joy Reid an advantage over many of MSNBC's hosts, in addition to the short list of contenders. Simply put, she's got the resumé, and has performed well in frequent guest-hosting stints this year, another sign that she's being groomed for a show.
Aside from clearly having earned her shot, Reid's mixture of experience gives her a point of view that is uniquely appealing, not just to MSNBC's considerable black audience, but to anyone interested in a fresh take on the news. That point of view was well demonstrated recently in an appearance on The Last Word with Lawrence O'Donnell.
O'Donnell devoted his entire "Re-write" segment to a self-serving op-ed by Oriana Farrell, the mother whose van was fired at by police during a traffic stop gone wrong. In the following segment, rather than comment on the piece himself, O'Donnell handed the reins to Reid, who delivered a forceful, clear-eyed commentary that threaded the needle between unflinching criticism of Farrell's actions, and the apparent misconduct of the police. Covering all the bases is not necessarily all that difficult, but Reid's commentary managed the neat trick of doing so without weakening it:
Weekends have been a useful proving ground for new talent at MSNBC, but Joy Reid's talents are better-suited to a weekday show, and with the sudden need created by Martin Bashir's departure, she's the ideal choice to step in.
Have a tip we should know? tips@mediaite.com