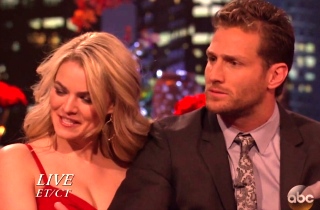 If tonight's Twitter reaction is any indication, Juan Pablo Galavis has effectively sealed his fate as The Bachelor's most despised contestant ever.
We had to do our own background research to provide you the background, so here goes: Galavis had previously drawn outrage for comments about a potential gay Bachelor being "too hard to watch" because homosexuals tend to be "more pervert."

Since then, his tenure with the show has been marred by battles with executive producers over those comments, and his general on-air behavior. But his actions in tonight's finale took home the prize for odiousness, according to the internet.
Apparently Galavis' selection between the top two choices to receive a proposal for marriage (What even is this show?) ended in an incredibly awkward fashion: One girl went home in tears, while the winner was given a non-proposal, told he "liked" her, and offered a rose as consolation of some sort.
Flash forward to the live, in-studio conversation between Galavis, the winner Nikki Ferrell, and host Chris Harrison. Galavis accused his host of repeatedly interrupting him, while refusing to go anywhere near saying he "loves" Ferrell, even though the 26-year-old woman has said multiple times that she has fallen "in love" with him. The audience boos, previous Bachelors chime in to rebuke Galavis — the whole thing is bizarre, even from an outsider perspective.
If you need any further proof of how much this man is now despised, just look at the tweets here. Some examples:
Bigger douche than #thebachelor Juan Pablo? Kim Jong-Un. Congrats on winning an election with 100% of votes! It was a vote-or-die sitch.

— KD (@kdthi) March 11, 2014
He won't even say I love you but Nikki still wants to stick around?! #theBachelor

— Emily Miller (@EmilyMiller) March 11, 2014
Watch a clip below via ABC:
Have a tip we should know? tips@mediaite.com