Juan Williams And David Limbaugh Get In Shouting Match Over NSA: You Can't Give Terrorists The Upper Hand!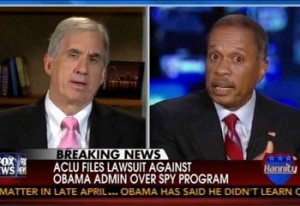 Fox News commentator Juan Williams has easily been one of the most vocal defenders of the National Security Agency's surveillance policies on cable news, and tonight, he fought both Sean Hannity and David Limbaugh, both of whom admitted they support the PATRIOT Act, but have concerns about whether the surveillance went beyond what the law allows. Williams insisted the program is legal, approved by Congress by both parties, and shouted at Limbaugh that "You can't allow the terrorists the upper hand!"
RELATED: Juan Williams Goes Off The Rails Over NSA On O'Reilly: 'I Don't Want To Get Blown Up!'
Before the interview, Hannity showed a mock Obama v. Obama debate, with Senator Barack Obama debating President Obama on massive government surveillance. Williams dismissed how damning it made Obama look, saying that a U.S. senator can be a "free-wheeling critic," but the president has an obligation to protect the nation. Limbaugh was amazed how cavalierly Williams was dismissing Obama making wildly contradictory statements on such an important issue.
Limbaugh bashed Obama as the "least transparent president we've even seen," but Williams pointed out that it's incredibly unlikely Republicans in Congress will do anything to limit this program. Hannity said he supports the NSA program and the PATRIOT Act, but the author of the latter said a fishing expedition is "against the spirit of the law." Limbaugh agreed and expressed his concern with how widespread the gathering of metadata is.
Williams rolled his eyes and fired back that Congress already settled this and the time for discussion was when the PATRIOT Act was first voted on.
"The fact is, it was passed by the Congress. The time for this discussion was–talk about emotions–after 9/11… At that point, there were people who were saying, 'Hey, I think we're giving away too much.' Now that we have a homeland security infrastructure, you have all this collection, I think there are a lot of johnny-come-latelys who are shooting–you can't allow the terrorists the upper hand, otherwise we're going to get blown up!"
Limbaugh said it's important to know if the gathering of such data actually prevents acts of terror. Williams dismissively said that while it would be nice to know who's engaging in terrorism before the fact, but the government needs to be able to examine who's making overseas communications and launch a pre-emptive response.
Watch the video below, courtesy of Fox News:
—–
Follow Josh Feldman on Twitter: @feldmaniac
Have a tip we should know? tips@mediaite.com
Josh Feldman - Senior Editor