Juan Williams And Hannity Shout Over Ryan Budget: It 'Literally Throws Grandma And The Kids Over The Cliff'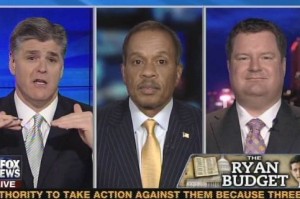 Sean Hannity tonight claimed that despite President Obama publicly appearing to reach out with Republicans at social functions, it's naught but a charade, citing a recent report saying Obama is only organizing such meetings because he is losing political clout. He brought on Erick Erickson and Juan Williams to discuss it, but Hannity ended up getting confrontational with the latter over Paul Ryan's budget. Hannity argued it was more serious than the Democratic budget, while Williams dismissed it as "imagined" and a "fantasy."
RELATED: Fox & Friends Host Dings Paul Ryan For Insisting On Repeal Of 'Obamacare' In Budget: 'That's Not Practical'
Hannity highlighted how despite multiple news reports that the outreach is all "fake," the Obama administration is denying all such claims. He pointed out the outreach always seemed a bit fishy given how much the president was demonizing the GOP and warning about the devastating sequestration cuts. Erickson said Obama is "zig-zagging" based on what the latest poll numbers say, suggesting the public shift towards the GOP on sequestration may have shaken the president a bit.
Hannity asked Williams why Democrats in the Senate have after four years released the budget made up of tax increases and are essentially "stealing from children's piggy banks." Williams told Hannity that Ryan's budget isn't really that different in terms of total savings from the Democratic budget, dismissing Ryan's as "imagined." Hannity shot back that Ryan's is the more responsible budget while the Democrats are just increasing the deficit. Williams shouted back, "One literally throws grandma and the kids over the cliff."
Williams continued pushing back against Hannity, saying that believing Obamacare can still be repealed is a "fantasy." Erickson allowed that even if Republicans allowed Obama to pass more tax increases, it would only solve a portion of the deficit deal, asking what the president would cut. Williams said Obama has already proposed spending cuts, citing chained CPI and Medicare.
Hannity was baffled at how after two separate tax increases, Democrats want an entirely new one, and continued pressing Williams on cuts. Williams insisted Democrats back entitlement cuts, but Erickson dismissed that as not "real cuts." Williams ended the segment by saying the GOP seems to think because senior citizens voted for them, it gives them leeway on Medicare cuts.
Watch the video below, courtesy of Fox News:
—–
Follow Josh Feldman on Twitter: @feldmaniac
Have a tip we should know? tips@mediaite.com
Josh Feldman - Senior Editor