Juan Williams And John Sununu Shout Over Each Other On Romney's Foreign Trip, Obama's Economy
Williams And Sununu Shout Over Each Other On Romney's Foreign Trip, Economy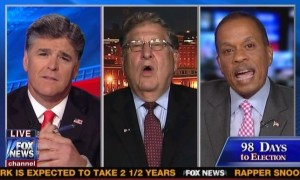 Juan Williams and Mitt Romney campaign surrogate John Sununu faced off once again tonight on Sean Hannity's show. Hannity highlighted Bill Clinton's recent statements on the economy and the Bush tax cuts seemingly putting him at odds with many Democrats, including Obama himself. He joked that Clinton sounds more aligned with Romney than the president, which Williams brushed aside as Clinton's "respect" for the Republican candidate. But then the conversation quickly turned to the negative reactions Romney got to his overseas tour.
RELATED: Romney Surrogate Rips Juan Williams For Defending Obama: 'Don't Let Your Blind Loyalty… Make You So Foolish'
Sununu slammed the "scandalous exhibitionist newspapers" in England for criticizing Romney for saying the same things about the Olympics they were saying before he got around to it. Williams said that Romney's comments show he is "not a diplomat," and Hannity asked him if Romney needs to go around apologizing for the United States to qualify.
Williams grilled Sununu on Romney's comments in Israel that he said came across as "racist" against Palestinians. Hannity retorted that Romney, unlike Obama, showed "strength" when he spoke in Israel. When Sununu praised Romney's speech in Poland, Williams compared him to a "man following the circus," cleaning up after Romney's mess.
Hannity interrupted Williams to briefly lecture him on the economy under Obama, and declared that the president has repeatedly apologized for the United States. Williams challenged Hannity to provide an example of that, calling Obama "the biggest booster of America." This set both Hannity and Sununu off, with Hannity dead-panning "Let me bow to that one." Williams touted Obama's economic record to much derision from his colleagues.
Watch the segment below, courtesy of Fox News:
Have a tip we should know? tips@mediaite.com
Josh Feldman - Senior Editor