Juan Williams, Andrea Tantaros Debate: What If A Republican Had Made Joe Biden's 'Chains' Comment?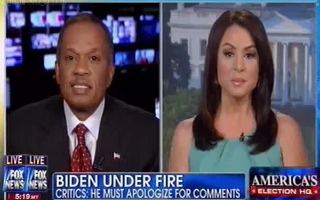 On Thursday, co-hosts of Fox News Channel's The Five, Andrea Tantaros and Juan Williams, appeared on Fox & Friends to debate which party is responsible for the increasingly vitriolic tone of the 2012 presidential campaign. In the course of this discussion, the pair debated whether there would be a more significant outcry over statements made by Vice President Joe Biden in which he said that his opponents want to put people "back in chains" if a Republican had said it.

RELATED: President Obama Defends Biden's Controversial 'Chains' Remark
Co-host Gretchen Carlson asked Williams if he was going to join others in denouncing Biden's comments, but he refused saying that he did not see what was so inflammatory in that statement to begin with.
"He was talking in language that has been used by Speaker [John] Boehner, Paul Ryan saying, you know, that Republicans want to unshackle Wall Street," said Williams.
"When you're speaking to an African American audience and you're talking about chains, doesn't that have racial tones," asked Carlson.
"Not to me," said Williams. "But I think the Republican party, a mostly white party right now – a mostly male party – upper income, I think they're very much aware that if anybody on the Republican side had said something like that, everybody would be screaming bloody murder."
Tantaros jumped in and said that the outcry if a Republican had said those words would be tremendous. She also criticized Williams for being unable to say the distinction between the metaphorical term "unshackling" and telling an audience that a political party wants to "put y'all back in chains."
"Really, Joe Biden should have just said 'I'm sorry' and moved on," said Tantaros. "Now, you know as well as I do, we just keep talking about this because they perpetuate the story. The defense is worse than the apology."
Watch the segment below via Fox News Channel:
> >Follow Noah Rothman (@Noah_C_Rothman) on Twitter
Have a tip we should know? tips@mediaite.com