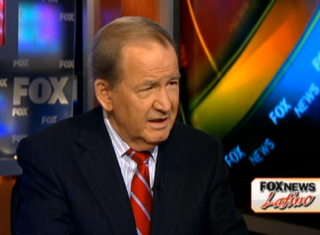 Pat Buchanan has been mostly mum since MSNBC president Phil Griffin announced he was no long with the network, but he opened up with week to Juan Williams, who has also had the experience of being called a bigot and getting fired. In an online exclusive for Fox News Latino, Williams spoke to Buchanan about the conversation he had with Griffin and how he felt about his book and the way his network received it.
RELATED: Chris Matthews Passionately Defends Ousted MSNBC Analyst Pat Buchanan
Buchanan admitted to Williams that he was "surprised that they didn't bring me back over there," since Griffin "never said he was firing me." He clarified that the relationship had been severed in a way that allowed him to travel to any network or write anywhere, and he agreed with the decision after being suspended. He was also holding up well, he told Williams– "I was removed from the Ford White House by Donald Rumsfeld," he joked, which was a more difficult situation than this. What concerned him, he continued, was the prevalence of "organizations that monitor every word you say… they're basically blacklisting organizations."
The two also bonded over being attacked for bigotry, with Williams recounting the story of how he got fired from NPR over saying that people in Muslim garb on airplanes sometimes made him nervous. That that was the comment that got him fired made Buchanan laugh, and he clarified that he found the entire situation problematic because "my idea of journalism is 'let's get around the table'" and talk issues out. He argued that his former employers are "afraid that people will believe you" and that he ideas would find acceptance.
"Are you a racist?" Williams asked, to which Buchanan said no, adding that Reagan was called racist, too, and that he only had a problem with the lack of assimilation in society but that he did not discriminate based on race. There was a comical moment where Williams noted that Buchanan was the son of immigrants, too, "and I don't think of you as Irish." "I don't think of you as an African!" Buchanan replied.
Buchanan discussed his opposition to some of what Israel did in the West Bank as well as his opposition to policies that helped minorities in the United States. Of affirmative action, he told Williams that to allow someone with lower grades into a school because of their racial makeup is "the same kind of rank discrimination that black people faced all over the country but especially the South." He clarified that he stood for the "rights to equal treatment" of "working class white people."
The interview is 20 minutes long, and seeing Williams directly challenge much of the image those who dislike Buchanan have of him is fascinating, as well as seeing Buchanan say things that are clearly out of sync with understandings of minorities and, in some moments, not quite acknowledging that minorities are at a disadvantage in a white-dominated society, using things like the percentage of black Americans in the NFL as evidence against affirmative action. It ends in a positive note, however, with Williams telling Buchanan, "I feel like we're brothers," to which Buchanan replied, "can you get me a job at NPR?"
The clip via Fox News Latino below:



[h/t Johnny Dollar]
Have a tip we should know? tips@mediaite.com