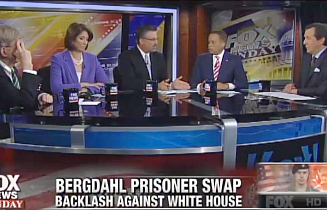 During Fox News Sunday's weekly panel, analyst Juan Williams took up the mantle of defending the administration's decision to swap five Gitmo detainees for U.S. Army Sgt. Bowe Bergdahl, an exchange that has resulted in considerable criticism of both substance and the soldier's record in general.
Asked by host Chris Wallace to "defend" the swap, Williams pointed out that it's not "a matter of defending," but is instead a "matter of us as Americans not getting lost in the troubling optics of the White House ceremony." Despite reports that bring negative light upon the deal and the American soldier himself, Williams suggested it's important to remember a few guiding thoughts [emphasis added in bold]:
The clear principle is we don't leave soldiers behind. And at the moment, I think what's necessary here, I'm reminded this sunday morning of the story of the prodigal son. You don't make judgments as you have the opportunity to bring that child back. America should be loving this child at this moment. Obviously we don't know why he left. We think he's a troubled person. We think he may have lost a sense of America's mission. All true. But the idea is we don't leave people in the enemy's hands. The enemy saw him as an American soldier. That young man suffered; he was caged, Chris. His parents suffered.
Williams also went after critics who've focused on Bergdahl's parents or other external matters not directly related to the exchange:
And yet people want to argue about the father's beard. They want to say they shouldn't have a parade. Let the military decide. The military's best position, not us sitting here on this panel, and not all the political people on the Republican side who have flip-flopped; flip-flopped, Chris, in the most craven way. Unbelievable.
Co-panelist Stephen Hayes — an outspoken critic of the administration's exchange — immediately took issue with that characterization, telling Williams "the details matter."
Agreeing to the "principle" that we want to bring all soldiers home, Hayes cautioned that, in this situation, the five detainees returned to the Taliban make it "difficult to swallow."
Watch below, via Fox:
Have a tip we should know? tips@mediaite.com