Juan Williams Clarifies 'Corporate Wife' Comment: I Was Criticizing Speech, Not Ann Romney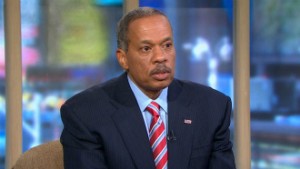 Fox News analyst Juan Williams found himself making headlines after his remark following Ann Romney's speech at the Republican National Convention — wherein he said she looked "like a corporate wife." That it's hard to believe her stories of struggle. In a post on FoxNews.com, Williams sought to clarify his comment by noting that he was critiquing the speech, not Romney.
RELATED: Juan Williams: Ann Romney 'Looked Like A Corporate Wife … Whose Husband Takes Care Of Her'
As you may already know, Williams' remark came last night, following Romney's speech. He said Romney looked "like a corporate wife … whose husband takes care of her." He went on to add:
"She's not speaking for the tremendous number of single women in this country. She did not convince me that she understands the struggles of American women in general."
The media quickly caught his words, and many found them offensive. Fox News' Chris Wallace responded, saying, "I thought it was really a dumb remark."
In seeking to clarify what he meant, Williams took a moment in his post to note that he's dined with Romneys and finds them "very nice people." Acknowledging that Romney is "a very real person who has faced all of the struggles that attend to being a wife, a mother and a cancer survivor," he further said she's "the type of woman that any man — corporate executive or not — would be proud to present as his wife."
Then, he proceeded to elaborate on his criticism:
Where the speech lost me was in her representation that the Romneys could understand the struggle of the average American family because they, too, had struggled. Those comments felt to me as if this was something she had often expressed in formal settings while representing her husband. This representation was not at all persuasive to me because their "struggle" is vastly different than the economic struggle of most Americans.

My criticism is about the economic angle of the speech.
A better approach, he said, would have been for Romney to acknowledge that she is fortunate and move on. As an example of the type of message she should focus on, Williams pointed to what he saw to be the best line in the speech:
"This is important. I want you to hear what I am going to say. Mitt does not like to talk about how he has helped others because he sees it as a privilege, not a political talking point."
It doesn't make sense for them to talk about their struggles being similar to those of average Americans, he said — because they haven't been. The Romneys "were born to lives of privilege." They "never had to live with economic fear of being laid off from a job or losing their health insurance."
His advice: acknowledge that, move on, spend "most of the time talking about the family's generosity and history of helping others."
(H/T FoxNews.com)
Have a tip we should know? tips@mediaite.com