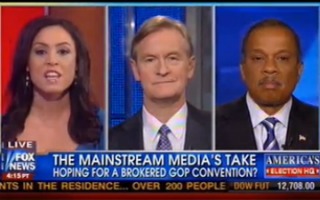 In a segment asking whether media coverage of the GOP election is biased, Fox & Friends showed a clip of Andrea Mitchell on MSNBC, expressing the need for an alternative to Newt Gingrich because of "desperation" among the Republican elite.
Panelist Andrea Tantaros, a regular on The Five, felt that the "mainstream media" definitely has an agenda when it comes to GOP candidates:
The mainstream media has been trying to gin up stories, Steve, on anything they can get their hands on. So, for the last two weeks, we've heard them talk on and on and on, speculating, hypothesizing, "What is in Mitt Romney's taxes? It must be something bad; it must be something sinister!" There's no proof of anything bad. […] He released them and it shows that this candidate actually is successful, so let's now demonize him on that narrative. I mean, poor Mitt Romney. He gives so much money to charity. He's a stand-up guy. Bain Capital never broke the law, yet the media is feeding into this frenzy in a way that they didn't do with Barack and Hillary. I mean, they did follow it. In all fairness, they did like that bloody battle. But this time around, I mean, Steve, we're dealing with subjects like contraception and Swiss bank accounts. They're not focusing on the issues at all.
RELATED: Herman Cain Defends Colbert Rally To Cavuto: Young Voters Think 'The Mainstream Media Is Boring'
Juan Williams agreed that the (mainstream) media characterized tension between Barack Obama and Hillary Clinton differently, but pointed out a notable distinction: "You didn't have a majority of Democrats saying 'Gee, we wish someone would enter this contest like a magical man or woman on a carpet and come and rescue us all,'" but "most Republicans feel that way because it's such a mediocre field."
And it isn't just the mainstream (aka left-leaning) media, he argued. Conservative publications are also echoing Mitchell's narrative. The fact is, he continued, that Republicans aren't rallying around Romney, and they have questions about Gingrich. That's what's going on right now, he said, rather than some sort of "grand conspiracy" among branches of the MSM.
Watch, via Fox News:
Have a tip we should know? tips@mediaite.com