Juan Williams Goes Off The Rails Over NSA On O'Reilly: 'I Don't Want To Get Blown Up!'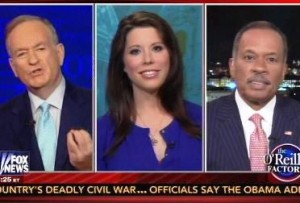 To Fox News' Juan Williams, conservative outrage over NSA surveillance simply boils down to the general lack of trust conservatives have in the federal government, rather than simple outrage over the surveillance state. During a panel discussion on Bill O'Reilly's show tonight, Williams was shocked at how critical both O'Reilly and conservative guest Mary Katharine Ham were of the NSA, yelling at them that they "don't want to trust anyone in the government" and "don't want a civilization," firmly declaring, "I don't want to get blown up!"
RELATED: 'Bring Back The Death Penalty': Fox Analyst Rips Snowden For Seeking To Be 'Kim Kardashian' Of Nat'l Security
O'Reilly found the building of a huge NSA storage facility in Utah to be alarming. Ham found it striking that an individual working for a private security contractor had access to a lot of this private information, though O'Reilly clarified that it's not clear how much of what he's saying is correct. Williams told both of them that their outrage over this is overblown, and scolded them for their lack of trust in the government to run the program.
"Look, if you don't trust used car dealers, you don't trust morticians, you don't trust journalists, okay, I understand it. But here you are saying not only don't you trust President Obama, you don't trust the people who–Republican or Democrat–run the House Intelligence Committee, the Senate Intelligence Committee, you don't trust the judges on the FISA court, you don't trust anybody to run these programs!"
O'Reilly brought up the IRS targeting scandal to argue it's not a gigantic leap to express such concerns about government overreach. Williams loudly groaned and told O'Reilly not to conflate the two scandals. O'Reilly asked, "What are you, Bambi?" Williams couldn't believe that a hawk like O'Reilly would resort to "demagoguery" to dismiss a national security tool, and O'Reilly mockingly remarked, "You must be on glue."
Ham added that the government can do a lot more with data these days than it could a few years ago. An exasperated Williams ended the segment by shouting at her and O'Reilly again.
"I don't want to get blown up! I'm amazed that the conservatives aren't on the side of the Obama administration!… You don't want them to trust anybody! You don't want a government! You don't want a civilization!"
Watch the video below, courtesy of Fox News:
—–
Follow Josh Feldman on Twitter: @feldmaniac
Have a tip we should know? tips@mediaite.com
Josh Feldman - Senior Editor