Juan Williams: Obama's Official Trips To Battleground States 'Looks Purely Political'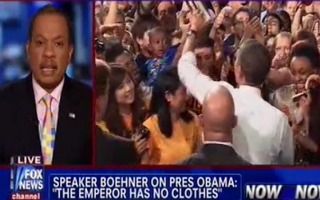 Fox News Channel contributor Juan Williams appeared on America's Newsroom on Friday where he said that President Barack Obama's recent trips to battleground states to speak to student's about student loan interest rates "looks purely political" and "raised eyes even among [Obama's] supporters."

RELATED: Gallup Poll Finds Young People Support Obama, But Are Less Likely To Turn Out To Vote For Him
On Thursday, House Majority Leader Rep. John Boehner (R-OH) called the President's campaign trips "pathetic." Boehner said that Republicans and Democrats in Congress supported extending lower interest rates on student loans and said that he had never seen a president demean the office like he believes Obama has.
"For the President to travel to three battleground states and go to three large college campuses on taxpayer money to try to make this a political issue is pathetic," said Boehner. "And his campaign ought to be reimbursing the treasury for the cost of this trip."
"These are the kinds of political stunts and, frankly, they aren't worth the—and worthy of his office," Boehner continued. "This is the biggest job in the world, and I've never seen a president make it smaller." Boehner concluded, "the emperor has no clothes."
America's Newsroom host Martha MacCallum asked Williams if he agreed with Boehner that Obama's unofficial campaign stops were beneath the office and Williams agreed that the trips appeared political in nature.
Well, presidents all along have used the power of incumbency – the bully pulpit, Martha – and used Air Force One as part of the bully pulpit to get out and talk to people. But, the President's actions this week raised eyes even among his supporters. People saying exactly how you would justify these trips. It looks purely political and, of course, what [Rep.] John Boehner said about raising the issue of student loans – I don't know that that's necessarily a fake issue. Obviously, Mitt Romney and other Republicans have been sensitive to the potential increase in interest rates for student loans now – the largest pot of loans in the country.
But the idea that he is reaching out to youth votes; it seems unquestionable. President Obama won about two thirds of the youth vote in '08 against [Sen.] John McCain (R-AZ), and his biggest problem coming into this election year is to stir that youth vote.
Williams cited recent polling that suggests that voters aged 18-29 do support the president but many are either unregistered to vote or lack the passion required to ensure that they will come out to the polls in November.
Watch the segment below via Fox News Channel:
Have a tip we should know? tips@mediaite.com