Juan Williams Panel Gets Uncomfortable Over Transgendered Beauty Queens And Surgical 'Advantages'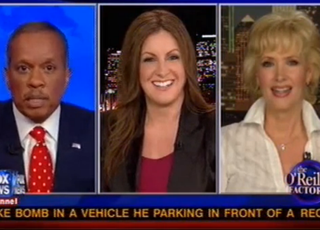 The introduction of a transgendered contestant to the Miss Universe competition has many confused and prompted all sorts of weird comments from Donald Trump, who is ostensibly in charge of these things. On last night's O'Reilly Factor, Juan Williams and panelists Leslie Marshall and Janine Turner took a look at the topic and had some uncomfortable discussion on whether "natural" women are at a disadvantage without surgically enhanced features and how often transgendered people would headline stories in the future.

RELATED: Donald Trump Says Attorney Gloria Allred 'Would Be Very, Very Impressed With [His Penis]'
The conversation began with the political, though, and with Democratic attacks on Republicans over the "war on women." Turner objected to the President's comments that women care about birth control, as it made it seem to her "all women care about is their uterus" when they care about health care and the economy as much as anyone else. Marshall disagreed, since women's health was not limited to birth control but certain kinds of cancers only women can get, that receive less attention perhaps because of they are of no concern to men. As for advising Mitt Romney on women winning, she advised him to "move to the center" but not to just choose a "Sarah Palin" type running mate: "it's not the gender of the person standing next to him on the platform, it's what they stand for."
Williams then turned to Jenna Talackova, the transgendered beauty queen. Turner was fine with Trump allowing her to compete, as it is "a private enterprise and he has a right to set any rules and stipulations he wants." Williams asked a more personal question, though: "How do you feel as a woman competing against a guy?" Turner thought it was somewhat unfair, since the beauty standard she seemed to think all women aspire to benefits from surgical enhancement: "natural born women are at a disadvantage, especially if they haven't had breast augmentation." Williams disagreed vehemently that transgendered women had an upper hand in the game, so to speak.
Marshall was thrilled with the news that Talackova could compete, since "this is going to happen more," as it becomes less expensive to undergo gender reassignment surgery. This seemed to worry Williams. "This is making me crazy– I'm an old guy!" he muttered.
The segment via Fox News below:

Have a tip we should know? tips@mediaite.com