Juan Williams, Rove Shout Over Gun Control: 'Nobody's Trying to Take Away Your Guns!'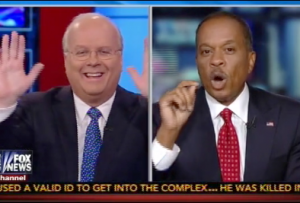 Sean Hannity tore into D.C. Mayor Vince Gray for saying sequestration is partly to blame for the tragic Washington Navy Yard shooting, citing it as evidence of the liberal politicization of the tragedy. Karl Rove and Juan Williams fought over whether it's really liberals politicizing the tragedy, or if it's conservatives by saying there shouldn't be any discussion about guns at all.
Hannity asked Williams, "Why is there always this race to politicize a tragedy and advance an agenda?" Williams insisted it's coming from the right because they've been crying "Don't bring up guns! Don't mention guns! Guns have nothing to do with it!"
Rove shot back that the NRA didn't weigh in, instead it was President Obama and Mayor Gray and Diane Feinstein. Williams argued the NRA has been silent so far because "they knew they'd be on the defensive." He and Rove battled over the power of the NRA to influence Congress, with Rove asking Williams if he really thinks it's "fine and dandy" for liberals to already be pushing gun control.
Hannity also brought up Obama's partisan attack on Republicans delivered hours after the shooting, while Williams and Rove continued fighting over gun control and mental health. When Rove said infringing on the rights of law-abiding Americans is not a solution, Williams cried, "Nobody's trying to take away your guns, Karl! Don't try to raise paranoia!"
Watch the video below, via Fox News:
[photo via screengrab]
— —
Follow Josh Feldman on Twitter: @feldmaniac
Have a tip we should know? tips@mediaite.com
Josh Feldman - Senior Editor