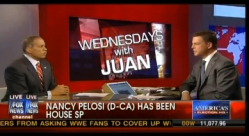 Juan Williams did his regular 'Wednesdays With Juan' segment on Shep Smith's Studio B today. It was Williams first appearance on Shep's show since his departure from NPR one week ago today. Interestingly, while Shep has gone on record both on his show and on yesterday's View in support of Juan but nary a word was spoke today about NPR or Juan's firing so perhaps this marks the beginning of the end of wall-to-wall Juan.
What they did talk about was Nancy Pelosi. What will Pelosi do if the GOP takes Congress. Williams thinks she may decide not to stick around even if she wins her seat in California (which she is likely to do). "Does she really want to [be minority leader] after being Speaker of the House, she doesn't really have any ambition to be President, so what would she be hanging around for? She's extremely wealthy. She doesn't need it."
Said Shep: "One thing that's easy to forget is here is…the President has been historically successful at getting his agenda through and Nancy Pelosi is the most powerful woman in the history of American politics has been historically helpful to him in that process."
"She drove it!" Says Juan. However, if the Dems retain the House there are "a dozen Democrats" on the record who want Pelosi out and that someone like Steny Hoyer may be in.
Meanwhile, what kind Speaker would John Boehner (aka, smoking companion of Mrs. Juan Williams) be? Especially where the Tea Party people are concerned. Boehner, Williams points out, does not have the hardline reputation that Pelosi does. One week to go! Watch below.
Have a tip we should know? tips@mediaite.com