Juan Williams: To NPR, Going On Fox News Meant 'I Was Legitimizing The Devil'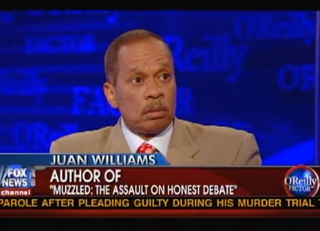 It's been a long year for Juan Williams since his controversial firing from NPR last October, but he, as Bill O'Reilly predicted at the time, managed to get back up and publish a book about his struggle. Williams visited The Factor last night to promote that book, Muzzled, and confessed some of the problems NPR had with his relationship with Fox, among them that he was told not to say he worked for NPR on TV and that they did not appreciate him "legitimizing" the network.
Upon playing a clip of a distraught– and, boy, was he distraught back then— post-firing Williams being told by O'Reilly that he would get a good book out of the ordeal, O'Reilly jokingly declared himself Carnac the Magnificent (Google it, young people), assuring Williams that he would come out on top. Williams admitted that at the time he was "so emotionally screwed up– I was hurt" that he couldn't see how his career would grow from there, but that O'Reilly "had a sense of the pulse of the folks. He simply couldn't understand why his comments about Muslims were taken so negatively.
"I never really understood why the liberal media is so protective of extreme Islam when it hates the left," O'Reilly noted, arguing that those media, "the New York Times, they would all be hung." Williams agreed, noting that Muslim extremists were against "all minorities" and too dangerous a threat to ignore.
O'Reilly then turned to NPR itself and how Williams got hassled for being a Fox News personality. "They were accusing you of legitimizing me by being on the show!" O'Reilly noted, a criticism in which both parties found much humor. "I guess they don't like you," Williams noted, to which O'Reilly retorted that, to NPR, "anything that had to do with FNC, you were helping the Devil." "I was legitimizing the Devil," Williams repeated, adding that they so wanted to distance themselves from the network that "I wasn't supposed to say I worked for NPR when I went on your show!"
The segment via Fox News below:

Have a tip we should know? tips@mediaite.com