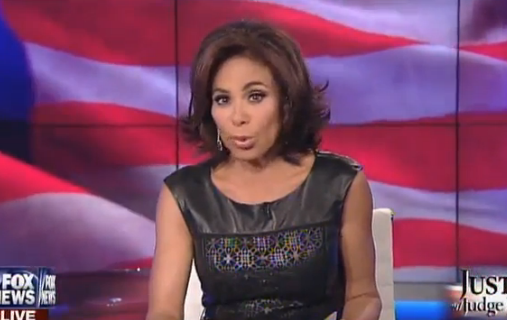 Coming off of a takedown of President Barack Obama's ISIS speech last week, Judge Jeanine Pirro opened her show Saturday night by slamming the president's handling of ISIS and going as far as calling the Islamic extremist group America's "single biggest threat in her 200-year history."
The threat is even bigger than those America faced during World War I, World War II, and September 11th, Pirro clarified. She also predicted that ISIS will come to America, "if [they are] not already on American soil."
She foresees "painful" and "extensive" damage, whether they come "as a legion or lone wolves."
Pirro took the opportunity to lambast President Obama's policies on ISIS, saying we are neither ready nor prepared for the coming infiltration by ISIS. She also played clips from earlier this summer when she insisted the U.S. military should "bomb them, bomb them, keep bombing them, bomb them again and again."
"You may have thought it was good TV, even entertaining," Pirro said on return to her live shot.
Pirro implied the Obama Administration does not act or react when Americans are in danger, and claimed ISIS is watching us, "like a lion waiting to attack."
She even invoked the White House fence-jumpers of the past two days:
Everything I've been telling you for a month is accurate. You need to think September 11th, 2001. You need to remember what it felt like then. Don't sit there and think that government has you covered. Hell, the White House itself and its perimeter were penetrated twice in the last 24 hours.
Pirro also used the Boston bombings as an example of the Obama Administration's ineptitude in combatting domestic terrorism. "These two brothers had the whole city of Boston on lockdown with a couple of pressure cookers," she said. She also slammed the FBI and others for not observing warning signs including the older brother's frequent travels to and from America.
She said because of these apparent breaches, there is "not a chance" the government would be able to protect its citizens from the threats posed by ISIS.
If our government were listening, our borders would be closed. If our government were listening, we'd be bombing ISIS nonstop. And if they were listening, our president would be following the advice of the military experts united on the issue of boots on the ground. But instead, our president thinks he knows more than the military experts, a disagreement highlighted this week and virtually unseen in American history. And if our government were listening, we would never have gotten out of Iraq the way we did.
Pirro concluded by recommending the Obama Administration raise the terror threat level, and asking ordinary citizens to "batten down the hatches" by stocking up on supplies, watching what teenagers are looking at online, and coming together "to take the threat seriously."
Despite how some are dismissing similar criticisms as alarmist in nature, Pirro's first guest agreed wholeheartedly with her thoughts and said she was instead "having an adult conversation about a really hard topic."
Watch the video below, via Fox News:
[Image via screengrab]
>>Follow Andrew Desiderio (@forza_desiderio) on Twitter
[Note: Mediaite intern Andrew Desiderio is a student at The George Washington University.]
Have a tip we should know? tips@mediaite.com