Judge Jeanine Pirro Slams Bloomberg: 'Still Bodies In The Theater When He Was Teeing Up His Favorite Issue'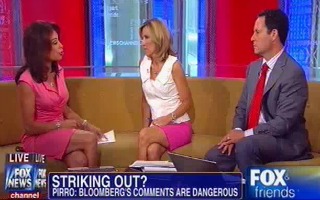 Fox News Channel host Jeanine Pirro appeared on Fox & Friends on Friday, where she went after New York City Mayor Michael Bloomberg's call for stiffer gun control measures hours after the massacre in Colorado. Pirro said that she believed Bloomberg violated the law in New York State when he called for a strike.

RELATED: Bloomberg: Obama 'Has Spent The Last Three Years Trying To Avoid The Issue' Of Gun Control
Pirro complimented Mayor Bloomberg for his conviction, but said that he was ignoring the feelings of the victims by promoting his preferred political agenda within hour of the mass murders in Colorado last Friday.
"There were still bodies in the movie theater when he was teeing up his favorite issue," said Pirro. "He's making it about him. He's making it about his issue. Be quiet for 24-hours at least."
Pirro went on to say that Bloomberg is in violation of the law with his call for police to go on strike in order to achieve stricter gun control laws.
"He is, in his call to the police to go on strike, he is instigating, encouraging or condoning a strike which is a violation of the Taylor Law in New York State," said Pirro. "He cannot do that. That is against the Taylor law."
Co-host Alisyn Camerota noted that Bloomberg walked back his comments soon after he made them and said that the Mayor was just "expressing his outrage" over the lack of strict gun laws that he believes contributed to the massacre.
"Well he said it," Pirro continued. She concluded by noting that it was interesting how a variety of institutions, including the school in which alleged shooter James Holmes attended, were not discussing the individual's history or mental state with the press.
Watch the segment below via Fox News Channel:
> >Follow Noah Rothman (@Noah_C_Rothman) on Twitter
Have a tip we should know? [email protected]