Judge Jeanine Slams Obama's ISIS Speech: 'I Know The Truth Is Hard For You'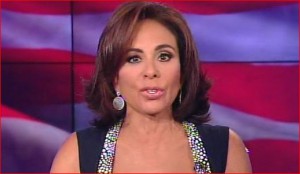 Fox's Judge Jeanine Pirro opened her show tonight with a scathing monologue in which she decried what she called President Obama's "dithering" on the issue of how to combat the extremist group ISIS.
After opening with an update to this evening's breaking news that ISIS has beheaded a British aid worker, Pirro accused President Barack Obama of being "afraid of words," insisting the president eliminated references to jihad in national security documents, and that his administration was behind the altering of the Banghazi talking points.
Pirro said President Obama just refuses to use the word "war":
Just weeks before a midterm election, the vast majority of Americans, Mr. President, believe you don't have a clue about foreign policy. You refuse to use the word "war." What's with the "counterterrorism offensive"? Who do you think you are, Jack Bauer? This isn't 24. When you bomb people, send in drones to kill people, order 1,000 military advisors to Iraq, and they cut off our heads, I've got news for you: we're at war.
She also referenced what seem to be mixed messages among senior administration officials, in which White House Press Secretary Josh Earnest and Pentagon Press Secretary John Kirby both said the U.S. is "at war" with ISIS, while Secretary of State John Kerry previously told CNN the U.S. is not "at war" with ISIS.
Pirro also accused President Obama of playing politics in an election year with the word "war" and whether or not Congress will vote to authorize a war. In addition, she said the Arab world is "reluctant" to join the U.S. in combatting ISIS, even though it is in their interest to do so, because President Obama is not a "true ally," isn't a man of his word, and is "not there for them."
She then accused President Obama of supporting and arming the Muslim Brotherhood government of Egypt following the ousting of ally Hosni Mubarak.
Pirro then played a recently often-played clip on Fox News in which former President George W. Bush warned of the consequences of withdrawing troops too soon from Iraq.
"I guess he was right," Pirro said of Bush. "At least President Bush got 49 countries to support the al-Qaeda war. So far you [President Obama] only have 9."
Pirro then slammed Obama for saying ISIS isn't Islamic: "I know the truth is hard for you, but let's get one thing straight. ISIS, your so-called JV team now up to 31,000, is Islamic. They are radical, extremist Muslims. Clearly a perverted form of Islam, just like Christian extremists who use Christianity as an excuse to kill."
She said they must be called "Muslim extremists" because they yell "Allah Akhbar," because their leader has a Ph.D in Islamic Studies, because they want to implement Sharia Law, because they desire a caliphate, and because they call themselves the Islamic State.
Pirro also insisted President Obama isn't qualified enough to say what is and what is not Muslim because he "can't figure out your own Constitution's First Amendment and freedom of religion."
Watch Pirro's blistering monologue below, via Fox News:
—
[Image via screengrab]
>>Follow Andrew Desiderio (@forza_desiderio) on Twitter
[Note: Mediaite intern Andrew Desiderio is a student at The George Washington University.]
Have a tip we should know? tips@mediaite.com