Judge Nap Confuses Fox Anchor With Hypothetical: 'Imagine If Drones Existed In 1776'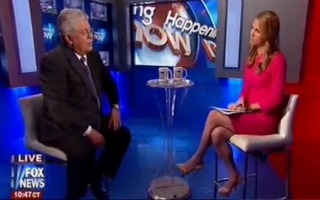 Fox News Judicial Analyst Judge Andrew Napolitano indulged in a hypothetical scenario in which unmanned drones existed during the American Revolutionary War that appeared to confuse Fox News Channel anchor Jenna Lee. When Napolitano asked her what would have happened if "drones existed in 1776," Lee paused and replied that "we're into a completely different area than I thought we we're going to be in."

RELATED: Judge Napolitano Slams UN Debate On Internet Regulation: Beauty Of Net Is That It's 'Utterly Unregulated'
In a discussion about police using unmanned drones to monitor civilian behavior, Judge Napolitano voiced his concerns about how these tools could be misused by police.
Napolitano conceded that Drones have not been approved yet, but predictions suggest that "within ten years, there will be between 10,000 and 30,000 drones in the air at any given time."
Lee asked Napolitano if he was thought that police cruisers patrolling a neighborhood represented as big an intrusion in privacy as he thinks drones do and, if so, was he overstating the threat that drones pose.
"Do we want to live in a society where the government watches everything," Napolitano replied.
"Could you imagine if drones existed in 1776, and George III had sent one to hover outside the bedroom at Monticello, what Jefferson would have done," asked Napolitano rhetorically.
Lee appeared confused by Napolitano's hypothetical. "Well, we're into a completely different area than I thought we were going to be in – including history," said Lee. "We're going to have a conversation about austerity and how that could be an effect on this."
"Maybe if we get too austere they won't have enough money for these drones," said Napolitano.
Watch the segment below via Fox News Channel:
Follow Noah Rothman on Twitter
Have a tip we should know? tips@mediaite.com