Judge Napolitano And Jon Stewart Take On Benghazi, Petraeus, Immigration, And The Role Of Government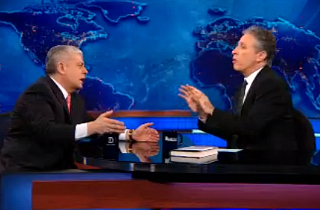 On last night's Daily Show, Fox News judicial analyst Judge Andrew Napolitano sat down for an interview in which host Jon Stewart picked his brain on the Constitution, immigration, the fallout from the Benghazi attacks and its connection to the ongoing scandal involving Gen. David Petraeus's extramarital affair.
Right off the bat, the two were trading little jokes: "You're not going to make me defend O'Reilly?" Napolitano jokingly asked upon sitting down.
"Could you?" quipped Stewart before asking Napolitano about O'Reilly's controversial election night comments about how the white majority establishment is fading in America and being replaced by minorities who want stuff. "If that mentality had prevailed, you and I [as descendants of immigrants] would not be here," Stewart said.
Napolitano took this as an opportunity to say that it was because of a history of less stringent immigration laws that he and Stewart were able to live here. And open borders, he argued, would be the best way to guarantee we continue that tradition.
Asked whether it seems like the political right is dwindling, Napolitano said that "the right obviously is outnumbered because the last two elections have told us so."
The two then debated the role of the federal government, with Napolitano taking a strictly constitutional approach. Stewart, however, was more skeptical, questioning the Judge's notion that the federal government is untrustworthy across the board.
On the subject of the Petraeus scandal, Napolitano made the case that the feds shouldn't have been spying even on the top spook in CIA director Petraeus. The Judge believes that the federal government knew about this affair for a while, and there was nothing new to discover and no fear of blackmail.
Despite Stewart's skepticism about all the unproven theories, Napolitano seemed certain that someone within the FBI leaked the affair to the press to prove that the agency could affect the CIA. He added that the president could end up embarrassed by nominating Petraeus to the CIA post with full knowledge of the Broadwell affair.
"That may be true, but it's conjecture," Stewart responded.
"Educated conjecture based upon my familiarity with FBI background checks," the Judge replied.
Stewart then asked Napolitano about how even "the intellectual heavyweights of the right like Charles Krauthammer" wax theoretical about this story without any proof. The Judge disputed the idea that Krauthammer is an intellectual heavyweight and then said if he had his druthers, his own FBN show Freedom Watch would be back on the air. Stewart agreed, pleading to the camera for Fox to give the Judge his show back.
Watch below in two parts, via Comedy Central:
And part two:
— —
>> Follow Andrew Kirell (@AndrewKirell) on Twitter
Have a tip we should know? tips@mediaite.com