Judge Napolitano Explains Latest Developments In Holder Investigation, Sees No End By Election Day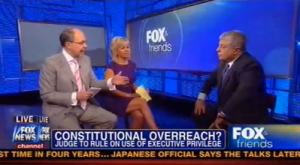 Judge Andrew Napolitano stopped by Fox & Friends Tuesday morning to weigh in on Rep. Issa's lawsuit against Attorney General Eric Holder and the latest developments in this ongoing — and seemingly never ending — investigation.
"What they have asked the court to do is to invalidate the President's invocation of executive privilege. This has happened before, this has happened to President George W. Bush after he left office. Once that's invalidated, assuming the court does it, then they have asked the court itself to review all these documents — they're talking about 78 or 80,000 pages, it's going to take the court a long time to do that — and decide which one stays in Justice Department custody and which one goes to the Congress. If the judge does that, that will effectively negate Eric Holder's wishes to keep the document to himself."
"The complaint indicates," he continued, "that the House of Representatives asked the United States attorney for the District of Columbia, who works for Attorney General Holder, to prosecute him and he said no. The complaint also indicates that if Governor Romney is elected president and a different U.S. Attorney is in Washington DC — and the Republicans still control the Congress, so three 'if's' — they will ask that U.S. Attorney to prosecute Eric Holder who, of course, will no longer be the attorney and will no longer have custody documents."
Furthermore, Napolitano believes that there is no way that this will be resolved by Election Day (if ever).
Have a look, via Fox News:
Have a tip we should know? tips@mediaite.com