Judge Napolitano: Obama 'Afraid To Admit' His Role In Creating Weak Libyan Gov't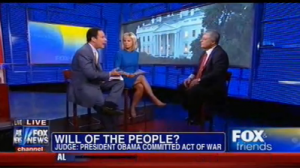 Judge Andrew Napolitano stopped by Fox & Friends on Thursday, where he was asked to weigh in on the White House's handling of the attacks in Libya.
"Look," said the Judge, "the President, on his own, without the authority from the Congress and without a consensus on the American people, waged a war in Libya by bombing Colonel Gaddafi, who was indeed a monster, but an ally." It was President Obama's sole decision, he continued, to wage war on Libya and kill its dictator, and in doing so he essentially "brought in people to run it far worse than Colonel Gaddafi was — the very same peope, in some cases the same human beings. because they got out of the Guantanamo Bay that we fought against for the past 11 years." So, he added, it is no surprise that "as a result of what the President did with respect destroying the Gaddafi government, there's no government strong enough to protect our people and our assets. He is afraid to admit that."
What it basically comes down to, Napolitano concluded, is an attempt at getting this President re-elected — and his inability to recognize an important reality:
The President doesn't recognize, quite frankly, that a vast part of the Middle East is it not ready for democracy. Democracy is more than just a a majority vote, it's a recognition of the rule of law, it's a recogntionin of the inalienability of human rights, of the supremacy of the individual over the state. So for the President, in the midst of the barbaric behavior over there, to say you guys should have freedom of speech, he's at point 10 and he hasn't even started at point 1.
What's more, he added, the President is giving misleading information on foreign affairs so we will talk about that "rather than the lousy economy that he made worse."
Have a look, via Fox News:
Have a tip we should know? tips@mediaite.com