Judge Napolitano: Obama May Be Lying About Not Sending Ground Troops To Libya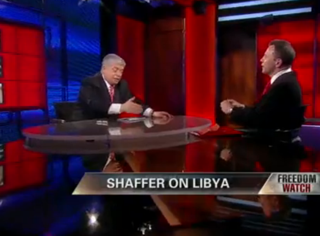 Among the most important details in President Obama's decision to aid an intervention in Libya is that the President promised not to put boots on the ground in Libya, limiting America's involvement to air strikes. On last night's Freedom Watch, Judge Andrew Napolitano had on a guest arguing the logistical possibility of conducting air strikes without people on the ground is slim to none, and Napolitano himself suggested it was possible troops had entered Libya long before the public even knew we would get involved.

"Is it even possible to engage in the no-fly zone… without having some boots on the ground?" Napolitano asked guest Lt. Col. Anthony Shaffer, billed as an author whose book the government attempted to ban. Shaffer argued that no, it was not possible, as precision strikes require ground information and "you always trust two things that are your own [on the ground]– your technology and your people." Trusting other nations' military groups, he said, made little sense.
With serious claims like that on the table, Judge Napolitano went straight to the core question: "Is the President lying?" Shaffer refused to flat-out call the president a liar, but did say that he thought it would be "less than honest to say we have no boots on the ground," and that certainly he could not imagine "large-scale combat units" traveling in Libya. With such an extensive operation, however, Napolitano argued that it was possible there were troops on the ground "before two Tuesdays ago… before he told us he was going to send them there." Shaffer added that the intelligence gathering operation also required it– "we don't necessarily understand who the good guys are and who the bad guys are," so talking to people in Libya is key.
The discussion via Fox Business below:
Have a tip we should know? [email protected]