Judge Napolitano: Obama's DOJ Could Be Held In Contempt If They Don't Comply With Appeals Court Judge
Judge Napolitano: Obama's DOJ Could Be Held In Contempt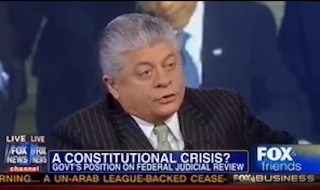 Fox News Senior Judicial Analyst Judge Andrew Napolitano spoke with Gretchen Carlson Thursday about U.S. Circuit Court of Appeals Judge Jerry Smith's appeal to President Obama that he issue an explanation for his remarks criticizing an "unelected" court possibly striking down his health care law and seeking from the Justice Department a three-page, single-spaced letter affirming the federal court's authority.
"If the President had said 'it's constitutional and it would be foolish and wrong for the court to invalidate it,' that's a perfectly legitimate argument for the President to make," explained Napolitano. "He didn't say that. He said the court is without authority to invalidate this statute. That is an unacceptable, utterly inaccurate absurd statement to come from a President, from a lawyer, from a former professor of constitutional law who taught this very subject at one of the best schools in the country."

RELATED: Judge Napolitano Slams Obama's SCOTUS Criticism: 'No Pres. Has Questioned This Since Andrew Jackson!'
Carlson asked what would happen if the President didn't comply with the Appeals Court judge.
"They would risk being held in contempt and because this was a direct order to the Attorney General himself, Eric Holder, it wasn't just an order to the Justice Department, it was an order to that guy, who wasn't in the courtroom at the time, he could be held in contempt by these federal judges as recently as a year ago. Judge Martin Feldman in New Orleans held the Secretary of the Interior in contempt for failing to process drilling permits as the judge had ordered him to do."
Reportedly, Holder said Wednesday that the Justice Department will respond "appropriately" to the judge's request.
Carlson followed up by asking if the document Holder submits will be parsed all over the world.
"Yes, I do believe that will happen," Napolitano affirmed. "I think the president really believes the statute is going to go down. I think he read the same transcripts and listened to the same oral arguments the rest of us did and he's sort of preparing the political road for attacking the judiciary for doing its job."
Watch Napolitano's analysis below via Fox News:

Have a tip we should know? tips@mediaite.com