Judge Napolitano On Facebook IPO Suits: Could Be 'Largest Class Action In The World'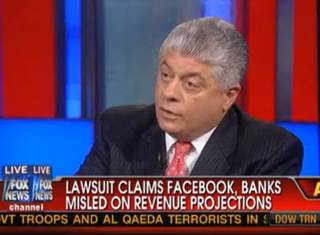 With Facebook's public shares declining speedily in value after the IPO last week, many investors who bought into the stock and have lost large amounts of money are wondering whether legal causes of action exist against Facebook and those who put the corporation on the market, especially given media reports that inside knowledge of the stock could have helped investors predict the fall. On Fox News today, Stuart Varney asked Judge Andrew Napolitano to assess the possibility of a successful class action lawsuit in this case, one that Napolitano predicted could be one of the biggest in history.

RELATED: Shep Smith, Judge Napolitano Go Off On Feds For 'Trampling Our Liberty' With NATO Summit Arrests
Judge Napolitano noted the issue at hand was that many investors– and media personalities, were "purporting they did not know what insiders knew," and hence were swindled into making investment decisions through illegal insider trading. There were two types of suits considered at the moment, Judge Napolitano noted: ones against Facebook and ones against Nasdaq. But there was a fundamental flaw in the complaints so far: "they are based on reports in the media because the lawyers for the plaintiffs have not yet seen the actual documents."
Varney asked whether it was possible the complaints would merge into one class action. "If the court certifies the class… you would have the largest class action in the world." He added that all of this was speculation for now– "we need to know if there is a case, and the case now is based on media reports." The purpose of the class action, he elaborated, would be to bring individual investors under the umbrella of the suit and help them get recompensed.
The segment via Fox News below:

Have a tip we should know? tips@mediaite.com