Judge Napolitano Slams Obama's SCOTUS Criticism: 'No Pres. Has Questioned This Since Andrew Jackson!'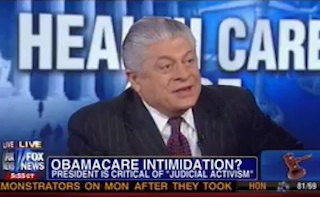 Appearing on Fox and Friends Tuesday, Judge Andrew Napolitano took a swipe at President Obama's demand to the Supreme Court to not overturn his health care law, calling it incomprehensible and desperate.
"We were scratching our heads when we were watching this and had it played over and over again because this is a graduate of Harvard Law School, the head of the Harvard Law Review and he taught constitutional law review at the University of Chicago," said Napolitano. "Two of the best law schools in the country and he's rejecting a basic premise of American law that's not been seriously questioned in 175 years, which is this: the courts have the right to review what the Congress does and what the President does and if the court finds that behavior unconstitutional, they can void, they can invalidate what the Congress and the what the President does. That's our system. That's what preserves the Constitution against the tyranny of the majority. No president has questioned this since Andrew Jackson!"
RELATED: Obama Asks 'Unelected' Supreme Court Not To Take Extraordinary Step Of Overturning Health Care Law
"Could he possibly have been saying look, if this is not upheld, the ruling would be illegitimate and I'm really kind of talking to Justice Kennedy over there who is probably a swing vote. You have three months. I vote you say it's okay?"
"That's why we have a life tenured independent judiciary so that it cannot be cowed by politicians no matter how well intended they may be," Napolitano said. "Look, if this is invalidated, the President can say this was invalidated by the court not by me. If this is upheld, the President can say look, even a court appointed by a Republican president upheld this but for him to question the power and ability and authority of the court to review it and to decide if it's unconstitutional is incomprehensible.
"Kind of looks like he's declared war on the Supreme Court," Doocy surmised.
"Kind of looks like he's desperate," Napolitano hit back.
Watch Napolitano's take on President Obama's criticism of the Supreme Court below, via Fox News:

Have a tip we should know? tips@mediaite.com