Judge Napolitano Takes On How Dead Boston Bombing Suspect's Wife Could Be Used In Court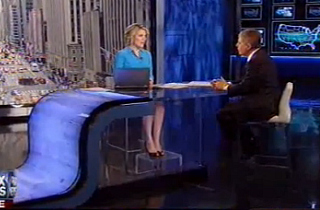 Appearing on America Live this afternoon, Fox News senior judicial analyst Judge Andrew Napolitano dissected to host Megyn Kelly exactly how Katherine Russell Tsarnaev, wife of deceased Boston bombing suspect Tamerlan Tsarnaev, could play a role in the court case against younger suspect Dzhokhar Tsarnaev.
Kelly wondered whether the late Tsarnaev's wife could be charged with some connection to the bombings, having been married to one of the suspects. But with conflicting reports on just how close the couple were, it might not be so simple for prosecutors to determine whether she knew anything about the planned attacks.
"The only way the government can get to the bottom of it, if they wanted to get to the bottom from her… is subpoena her before a grand jury," Napolitano explained. "They will be asking questions in front of a grand jury and not have a road map of knowing what her answers are going to be. She'll have no alternative but to answer before the grand jury unless the answer would potentially implicate her in which case she will invoke the Fifth Amendment. She can only invoke for herself, not for her husband which is dead." Napolitano also clarified that the wife will have no "spousal privilege" to not testify against her husband because he is deceased.
On the fact that Tsarnaev's wife has gotten "lawyered up," Napolitano explained that "the presence of a lawyer when the government is interviewing the client makes the interviewer better because the lawyer will sometimes say, 'You can answer that, you can answer that, you can answer that,' as opposed to the person on their own clamming up."
We cannot assume any guilt simply because she has hired a lawyer, he added, because "she needs a lawyer whether he is a potential target for criminal prosecution just because the FBI came knocking on her daut door.
After Kelly noted that the wife could be a "wealth of information" for the case against Tsarnaev's younger brother, Napolitano described how her lawyer "has to weave a fine line between what she knows and how the information could be used against her. The lawyer has to interview her profoundly: Is there anything in her brain that could harm her?"
Watch below, via Fox:
— —
>> Follow Andrew Kirell (@AndrewKirell) on Twitter
Have a tip we should know? tips@mediaite.com