Judge Napolitano To Megyn Kelly: Zimmerman Prosecution Brought Case To Court Because Of 'Public Pressure'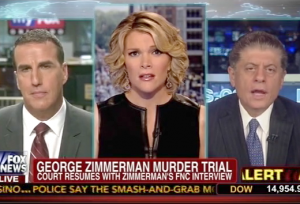 The George Zimmerman murder trial has been given wall-to-wall coverage on every cable network, but one Fox News contributor today wondered why it went to court in the first place. Megyn Kelly noted today that a lot of what the prosecution had brought out to discredit Zimmerman's story actually ended up helping the defense, which led Judge Andrew Napolitano to say that the prosecution should have probably charged Zimmerman with a lesser crime and that the only reason they allowed the case to get this far was due to "public pressure."
RELATED: Fox's Greta, The Five Rip Zimmerman Prosecution: 'Does The Defense Even Need To Put Up A Case At This Point?'
Kelly found it unbelievable that the prosecution would play Zimmerman's interview last year with Sean Hannity, especially considering that plus other evidence they've brought out means they've gotten to show Zimmerman's side of the story without direct cross-examination. Napolitano said this is all about trying to "demonize" Zimmerman are only showing all of Zimmerman's interviews and comments about the night of Trayvon Martin's death to exploit tiny changes in detail.
Kelly and Judge Alex Ferrer were both mystified at how defensive of Zimmerman the prosecution's evidence and witnesses appear to be, especially with the Hannity interview. Ferrer called the prosecution "desperate" because they're willing to let the jury view Zimmerman as sympathetic if it means they can catch a misstatement. He did say it might have looked bad for Zimmerman when he said to Hannity that "it all happened so fast" that he couldn't say for sure how much danger he was in.
Napolitano argued that the whole case is very bad for the prosecution, and they never should have let it get this far to begin with.
"The prosecution has a weak case here. This is a dangerous intersection of racial politics and the law, where the racial politics [are] not animating this prosecution. The prosecutor should be free to say, 'You know what? This is not a second-degree murder case, our witnesses are weak, they're going to help the defense as well as they're going to help us. We should charge him with a much lesser crime, and we have a better chance of convicting, or we should not charge him with anything.' They're not stupid. They know they have a weak case and they're putting it out anyway because of the public pressure to prosecute this guy."
Watch the video below, courtesy of Fox News:
—–
Follow Josh Feldman on Twitter: @feldmaniac
Have a tip we should know? tips@mediaite.com
Josh Feldman - Senior Editor