Judge Napolitano To Sen. Ensign: Could Fox News Be Prosecuted For Wikileaks Talk?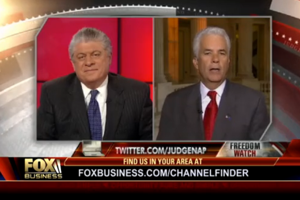 Wikileaks' Congressional opponents are recharging their batteries, and while Julian Assange has bigger legal fish to fry in Europe, he could soon be facing the consequences of breaking U.S. law by outing foreign intelligence sources. One of the senators behind the legal push, John Ensign, debated vocal Wikileaks ally Judge Andrew Napolitano on Freedom Watch on Friday, and while he made clear who he was protecting, he had a hard time defining "journalists"– and why Assange doesn't count.
The Republican Sen. Ensign, along with Senators Scott Brown (R) and Joe Lieberman (I), will introduce a bill in the Senate that would bar journalists from leaking the names of government informants whose lives may be jeopardized by their outing. This would any newswire publishing the information in as much trouble as Wikileaks, though Ensign argued that most news outlets had declined to put out as many names as Wikileaks had.
The main problem with Ensign's argument, it seems, is his insistence that Assange and Wikileaks are not journalists. Asked directly whether "if Julian Assange is not a journalist, and if Wikileaks is not a publisher, how do you define journalist and how do you define publisher, and isn't it dangerous to redefine these things after the fact?" Ensign repeatedly declined to define either title. While he did agree with Judge Napolitano that a more thorough investigation into which government officials were responsible for the leak and a severe rebuke was in order for them, the two diverged on whether the people receiving the leaks from the government should receive equal reprimand.
Ensign defines Assange as "by his words, an anarchist"– seemingly a mutually exclusive title from "journalist," which he ultimately never defines, other than to say "he [Assange] is certainly not acting like a journalist." This back-and-forth continues for some time until Napolitano, in one final attempt to figure out what Ensign considers journalism, and why Wikileaks isn't it, asks whether, under the proposed law, Fox News would "have a target on our heads" for discussing the content of the leaks. Here Ensign is consistent, answering "no, because you did not reveal the names of human intelligence resources."
The full discussion via Fox Business below:

Have a tip we should know? tips@mediaite.com