Judith Miller Accuses Chris Christie Of 'More Often Than Not' Yelling At Women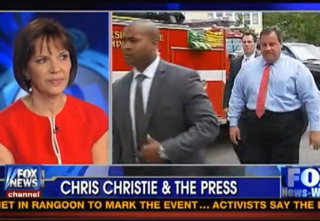 New Jersey Governor Chris Christie has developed a reputation for not having too much patience with those who try them, to the point that many are beginning to ask what this will mean for his political career. On today's Fox News Watch, Judith Miller took it a step further by noting that most of Governor Christie's altercations seem to involve women, something that suggests his lack of respect for some is gendered.

RELATED: Gov. Chris Christie Gets Into Heated Altercation On Jersey Shore Boardwalk
The regular panel took a gander at Christie and his recent disagreement with a reporter he called an "idiot" at a press conference. Jim Pinkerton joked, "Don Rickles had a good career hurling out insults," and agreed with what would be a consensus opinion by the end of the segment: the shtick gets old. "In the beginning, they find it refreshing and cute," Miller argued, then things change. "Women have noticed that Chris Christie tends to pull this bullying number when a woman is asking the question," she noted.
Alan Colmes, surprisingly, was the most positive towards the governor. "You very rarely see a politician say what he really thinks like that. I hadn't noticed it was a gender issue, and if it is, that's bad," he added. Host Jon Scott noted that the "idiot" in the latest video was a man, but Miller countered that "more often than not, it's female reporters." Cal Thomas did not weigh in on the sexism issue, but echoed the other sentiments: "it's cute for a while but then it can come off as arrogance, and people do not like arrogance in a politician."
The segment via Fox News below:

—–
»
Follow Frances Martel on Twitter
Have a tip we should know? tips@mediaite.com