Judith Miller Calls MSNBC Convention Coverage Biased: 'It's Not Leaning Forward, It's Leaning Leftward'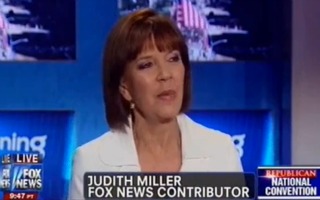 On Friday, Fox News Channel contributor Judith Miller was asked for her impression of how the Republican National Convention was covered by other media institutions. Miller said that the bias in the media had become "obvious," and that MSNBC personalities like Tom Brokaw and Chris Matthews had exposed themselves as being unable to cover Republicans objectively.
In a panel discussion of Thursday night's events from the GOP convention, Fox News contributor Cal Thomas said that his favorite moment of the RNC was Clint Eastwood's speech.
"This is a show," said Fox contributor Judith Miller. "If you're going to put on a show and a play, then send in Clint Eastwood, because one man's squint is another man's cringe."
Anchor Jon Scott asked Miller for her thought on how NBC News had covered the RNC.
The bias is now so obvious, when you have one commentator after another, from Tom Brokaw to Chris Matthews, talking about "very dark" and how Chris Matthews actually said a "jingoistic" speech referring to Gov. Romney. I really didn't detect that. It's just, the bias is not — it's not "Leaning Forward" [MSNBC's slogan], it's leaning leftward.
Thomas said that this bias was shared by other media institutions, citing a cartoon in the Los Angeles Times which lampooned the Republican party as a majority white party. However, when they feature minority or female politicians elected to high office, the GOP is accused of pandering and tokenism.
"If you're a Republican, you can't win" said Thomas. "If you feature women, if you feature Hispanics then they're all…"
"You can feature them, Cal, but when the camera pans to that audience an it's all rather older than the country and whiter than the country, you have to wonder what the rest of the country is asking themselves," said Miller.
Watch the clip below via Fox News Channel:
> >Follow Noah Rothman (@Noah_C_Rothman) on Twitter
Have a tip we should know? [email protected]