Judy Woodruff Confronts Kellyanne Over Trump Accusing PBS Colleague Yamiche Alcindor of 'Racist Question'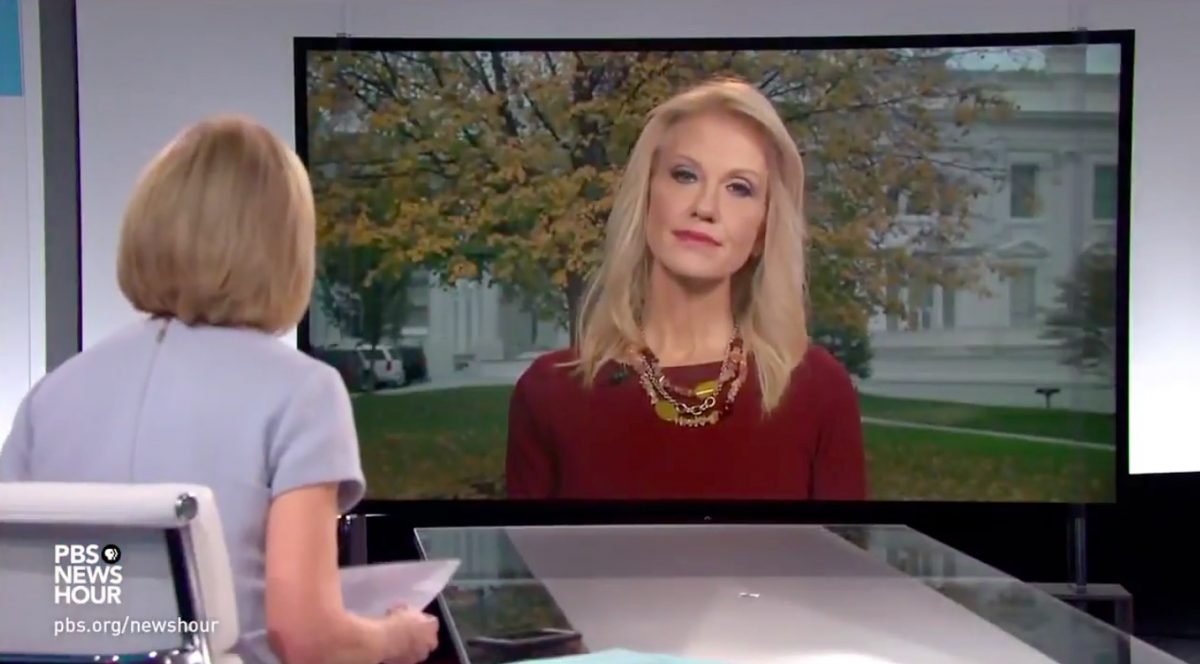 PBS NewsHour anchor Judy Woodruff confronted Kellyanne Conway over President Donald Trump's clash with Yamiche Alcindor, in which he accused the PBS reporter of asking a "racist question."
During Trump's marathon press conference on Wednesday, Alcindor asked the president if he thought embracing the term nationalist emboldened white nationalists.
"That's such a racist question!" Trump fired back. "To say what you said is so insulting to me, it's a very terrible thing you said."
Woodruff asked Conway, the White House counselor, about the exchange on NewsHour.
.@JudyWoodruff asked @KellyannePolls about @Yamiche's question to the president today, and the president's response that the question was "racist." pic.twitter.com/TSFLUdq7Dj

— PBS NewsHour (@NewsHour) November 8, 2018
"He told her he thought it was a racist question," Woodruff noted. "What do you think the answer to the question is though?"
Conway replied that the president took 68 questions from 35 reporters, arguing that proves Trump is accessible.
"I believe what he was saying to your colleague Yamiche is that the implication of racism in the word nationalist is very unfortunate," Conway said. "Because there's a difference between nationalism and white nationalism."
Conway continued that she resents being accused of "racism, sexism, mysogynism and xenophobia."
"It's a lot on our shoulders, and it's not fair," she said, accusing some reporters of "trying to make a name for themselves and really getting very heated and sometimes getting very disrespectful."
"I think there's a certain decorum and a certain respect that has to attend to approaching the president of the United States at a press conference," she added.
When Woodruff pressed, Conway conceded that it might have been better for Trump to describe that question as one with "racist implications."
Watch above, via PBS.
[image via screengrab]
Have a tip we should know? tips@mediaite.com
Aidan McLaughlin - Editor in Chief