Julian Assange To Matt Lauer: Rape Charges Have Been "Successful Smear Campaign"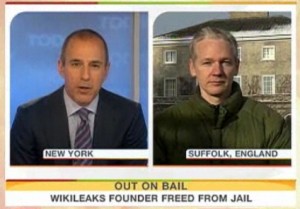 Today's Matt Lauer nabbed the first American interview with recently jailed WikiLeaks founder Julian Assange this morning. The defiant Assange maintained that the allegations of rape leveled against him were "incredible" calling it "a very successful smear campaign so far." Lauer asked Assange about looming espionage charges based on software Assange is alleged to have provided in assistance to Pvt. Bradley Manning in uploading leaked documents, to which he claimed no specific knowledge.
Interviewed via satellite from the English estate where Assange is currently staying, Lauer reminded viewers that morning show fluff isn't the only thing one can see on Today. Lauer was tough but completely fair, getting straight to the point in the efficient 5 minute interview, which you can watch from NBC below (rough transcript also from NBC News follows thereafter.)
>> good morning to you. this is a major legal victory for you, you have been released on bail but not without restrictions as peter just mentioned. you've got a curfew, you have to report to the police on a daily basis, you will have to wear an electronic monitoring device, you said yesterday, if justice is not an outcome, at least it's not dead yet. your response to the events in the last 24 hours?

>> it's very nice to be out in the sun, in snow and amongst good and courageous friends. we should remember that this is not the beginning of the end, rather it is merely the end of the beginning. we hear credible reports today in the guardian newspaper concerning what we heard yesterday, that there is something like an espionage indictment, made secretly against me in the united states.

>> actually what i think you're referring to is that prosecutors are trying to figure out if in addition to receiving leaked documents perhaps from private first class bradley manning, you also supplied private manning with software that he loaded into a computer that allowed him to receive those classified documents. did you do that?

>> i have no information about what you're referring to. we don't know what the grounds of that investigation is. in fact, like the swedish investigation, the whole damned thing is kept secret. we saw three court cases here and every single one of those, the argument that no evidence whatsoever was needed to be presented to the court to extradite me for hearings in sweden, were secret, a gag ordered was attempted to be placed upon my swedish attorney and the requested conditions for my extradition to sweden was that i would be held incommunicado. something is very wrong with that situation and something is wrong in the united states that such an investigation against me and in effect my organization and indeed now we have received serious calls from the "new york times" as well, that all that is to be conducted in secret.

>> let's move on to the personal situation with the charges being leveled against you in sweden by these two women in separate incidents. they claim that you are guilty of rape and molestation and illegal coercion. this is going to boil down or is this going to boil down to a very high stakes case of he said/she said? and if so, why are you confident that you'll be able to prevail?

>> it is an incredible allegation of rape and in the beginning, double rape reported around the world. in fact, according to google, if you look on the internet, my name is mentioned in one-tenth of dimensions of rape. so this has been a very successful smear campaign so far. but i think it's — its days are numbered and people are starting to wonder, is what is claimed really true and if it is true, where is the evidence? why has no evidence been provided even to me and my defense attorneys?

>> you have declared your innocence in this case and it raises a very obvious question, if you believe that you are innocent and you can prove that, why fight extradition to sweden? why not go back and answer the questions?

>> i stayed for nearly 40 days in sweden. the matter was dropped entirely within 24 hours after the charge was made. subsequently, pushed by a politician to another prosecutor, not the senior prosecutor in stockholm, again, i spent time there to clear my name. received permission to leave the country for my work and did so. i came to the uk back and forth, registered my name with authorities here in case there was an issue. when there was an issue, we went in within nine hours of being called. it is not the case that i or any other person should have to fly off to foreign states without the provision of any evidence whatsoever. that is simply not acceptable to me and it should not be acceptable to any person.

>> let me move on back to the subject of wikileaks and the documents you have released and the documents you promised to release. now that you're free on bail, you do have access to the internet, mr. assange, do you plan to accelerate your plans to release further documents?

>> as we have seen wikileaks is a robust organization, during my time in solitary confinement in the basement of a victorian prison, we continued to release, our media partners continued to write stories and just said, i see in the guardian, our prime british media partner, india is accused of systemic use of torture. nearly 1,200 cases of torture in kashmir. important revelations from this material continue to come out. we have approximately 200,000 cables into 250,000.

>> julian assange, i thank you for joining us this morning.

>> you're welcome.
Have a tip we should know? tips@mediaite.com