Too Close For Comfort? TSA To Make 'Junk Touching' Security "Minimally Invasive"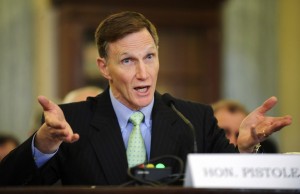 What a difference a few hours makes.  John Pistole, administrator of the Transportation Security Administration, appeared on CNN's State of the Union this morning guns blazing in his declaration that the TSA's controversial security procedures were "not going to change."  Now all of sudden, just a few hours later the TSA has released a statement saying the procedures "will be adapted as conditions warrant."  The statement goes on to read:

We welcome feedback and comments on the screening procedures from the traveling public, and we will work to make them as minimally invasive as possible, while still providing the security that the American people want and deserve. We are constantly evaluating and adapting our security measures, and as we have said from the beginning, we are seeking to strike the right balance between privacy and security.

In all such security programs, especially those that are applied nationwide, there is a continual process of refinement and adjustment to ensure that best practices are applied and that feedback and comment from the traveling public is taken into account. This has always been viewed as an evolving program that will be adapted as conditions warrant, and we greatly appreciate the cooperation and understanding of the American people.
Maybe it was the invasive questioning from CNN's Candy Crowley, State of the Union host, that convinced Pistole to change his mind or maybe he has a flight scheduled for tonight, but either way this has got to be one of the quickest about-faces on record.
Watch Pistole's original position in the video courtesy of CNN below:
Have a tip we should know? tips@mediaite.com