Juror B37 Defends Zimmerman's Motives To Anderson Cooper: His 'Heart Was In The Right Place'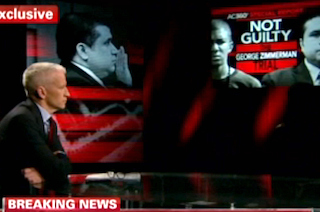 Juror B37, who has already signed to a literary agent and just as quickly dropped the idea of penning a book on the trial, told Anderson Cooper Monday night that she thought George Zimmerman's "heart was in the right place" during the incident that led to the shooting death of Trayvon Martin.
"I think George Zimmerman is a man whose heart was in the right place," the juror said, "but just got displaced by the vandalism in the neighborhoods, and wanting to catch these people so badly that he went above and beyond what he really should have done. I think his heart was in the right place, it just went terribly wrong."
Juror B37, whom Cooper interviewed last night, is the only of the six jurors to have publicly spoken about the trial. She remains anonymous.
Cooper asked the juror if she thought Zimmerman was guilty of anything.
"I think he's guilty of not using good judgment," she said. "When he was in the car and he called 9-1-1, he shouldn't have gotten out of that car. But the 9-1-1 operator, also when he was talking to him, kind of egged him on. I don't know if it's their policy to tell them what to do, not to get out of the car, to stay in their car. But I think he should have said, 'Stay in your car,' not 'Can you see where he's gone?'"
"Do you feel George Zimmerman should have been carrying a gun?" Cooper asked.
"I think he has every right to carry a gun," the juror responded.
Watch the interview below, via CNN:
—
>> Follow Evan McMurry (@evanmcmurry) on Twitter
Have a tip we should know? tips@mediaite.com