Just 6% Of A Fox News Poll Think Palin Should Be President, And Other Storylines From Day 1, Post-Palin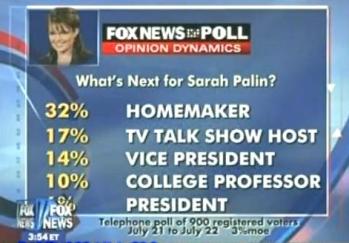 Now that Sarah Palin is out of the political picture, the media has to find someone else to talk about.
Wait what's that? We're talking 24-hour cable news networks? Okay, let's find some Palin angles people!
Here's the best of the Palin conversation yesterday, from her "sexual appeal" to how she's just like Ronald Reagan.
• During Studio B with Shepard Smith, he revealed the results of a Fox News poll released yesterday. If these results had come from an MSNBC poll, or a CNN poll, the right-wing blogs would be in an uproar. However it was Fox News poll respondents saying that Palin's next job should be as a homemaker (32%). Next up, talk show host. And at the very bottom, 6% thought she should be president. "The 6% is not bug friendly," joked Shep, referring to the Fox News logo blocking the image. (Side note: Shep's gigantic Boston Globe profile.) Again – 6%, Fox News poll.
• On CNN, Wolf Blitzer interviewed comedian Bill Maher about several topics during The Situation Room. Well let's see what Maher thinks about whether Palin will be president. "I would never put anything past this stupid country," he said. Nice. Here's the video:

• Donny Deutsch filled in for David Shuster on MSNBC from 3-5pmET yesterday, and continued a Palin storyline he's talked about before – how damn sexy she is. Here he is discussing why "this is the first woman in power that has sexual appeal and people don't know what to do with it" with a panel of three women (via HuffPost). For what it's worth, Tamron Hall thought it was "insane" while Norah O'Donnell thought he was "absolutely right."

• Meanwhile, a lot of segments focused on whether the White House was in her crosshairs, but only Fox News' Neil Cavuto framed the political maneuver as potentially Reaganesque:

—–
» Follow Steve Krakauer on Twitter
Have a tip we should know? tips@mediaite.com